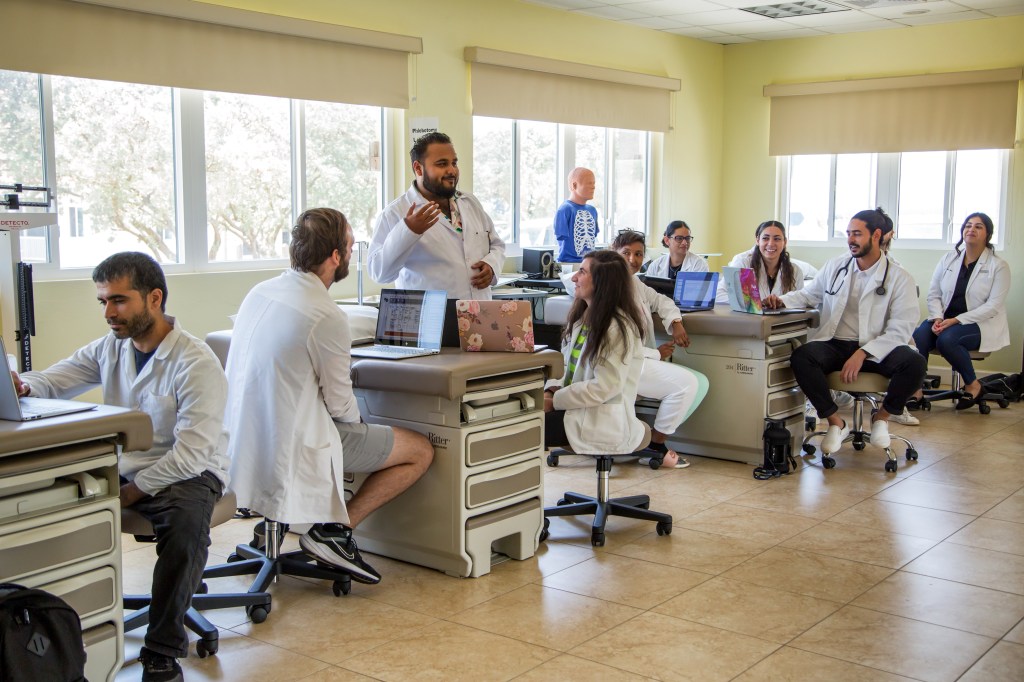 Academic Facilities 
MUA's 10-acre campus offers a dedicated testing center, state-of-the-art laboratories, a wide array of recreational options,and a nearby hospital for clinical experience.
The Medical University of the Americas Basic Science campus is located on the eastern side of Nevis, providing a beautiful view of the Atlantic Ocean. The ten-acre medical campus includes multiple buildings and learning facilities, such as an administration building, classrooms, a student cafeteria, and a multipurpose building that houses laboratories for gross anatomy, microbiology, histology, and pathology. There is also a medical reference library with free wireless internet access. The microbiology lab is equipped with a wet lab and medical facilities for incubating and evaluating microbiological cultures. In 2009, a new 38,500-square-foot building was completed, which includes additional classrooms, administrative and faculty offices, laboratories, meeting rooms, a clinic, a general function room, and a fitness center.
All classrooms are air-conditioned and equipped with various teaching resources, such as classroom monitors, slide and overhead projectors, microscopes with video capability, LCD projectors, and computers. 
The gross anatomy laboratory uses specially prepared human cadavers for medical dissection. Additionally, there is a dry anatomy laboratory with various teaching aids, as well as tutorials on X-ray, CT, and MRI imaging technologies. 
The histology and pathology laboratories provide each student with a medical-quality binocular microscope and prepared slides. Faculty members have access to dual-binocular and trinocular microscopes to enhance student learning. 
The MUA campus cafeteria is open from 7:00 AM to 5:00 PM and welcomes all students, faculty, and staff. It offers breakfast, lunch, and snacks at prices subsidized by MUA. 
Recreational facilities on campus include two tennis courts, a basketball court, a volleyball court, a children's play area, and a fitness center. The Lorraine Hanley Browne Medical Library is a two-story, 10,000-square-foot facility. It provides computer terminals, individual study carrels with monitors, and videotape recorders. Students also have access to a wide range of journals, textbooks, and extensive online medical resources. MUA library's Learning Resource Center (LRC) contains printed USMLE reference materials to support students in preparing for their board exams throughout their Basic Sciences program.