Areef Kassam, MD
Psychiatry Residency at Community Health Network, Indianapolis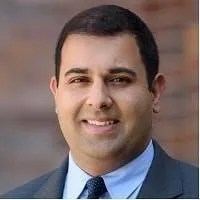 Trained as a psychiatrist and devoted to children, Areef Kassam is in the wonderful position of combining two of his passions. While completing his psychiatric residency in Indianapolis, this 2014 graduate of Medical University of the Americas is also working in the city's juvenile court system, serving as a special advocate for children.
"I am assigned to be a conduit and representative for children who find themselves facing court proceedings. I see many cases of mental illness. Sadly in most situations, the child also has an adversarial relationship with their parents, or parent. It can be very tough, and I am glad to be there to help in any way I can."
A 2014 graduate of Medical University of the Americas, Areef also has a Masters of Public Affairs from Indiana University School of Public & Environmental Affairs with a concentration in Health Services Administration.
After graduating from MUA, Areef spent a summer as a volunteer at Tibetan Delek Hospital, Dharamsala, India – helping to provide medical, preventive and social assistance to Tibetan refugees. He is currently completing his four year psychiatric residency at Community Health Network in Indianapolis.
Areef hopes to get a fellowship in child/adolescent psychiatry with a focus on global health. His dream is to practice in Southeast Asia or Eastern Africa, putting his schooling at MUA, and prior work, to good use helping the less fortunate.
"I enjoyed seeing rural medicine being practiced on the island of Nevis when I was there. It piqued my interest in global health and pushed me in the trajectory I am on currently."