Joseph Jose, MD
Internal Medicine Residency at Bethesda Health Physician Group, Wellington, Fl.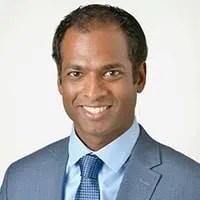 When Joseph Jose attended Medical University of the Americas, he had much of the campus to himself. Enrolled in one of MUA's first classes, his fellow classmates numbered under 20.
"It was a beautiful island to have at your disposal," he recalls. "I loved taking in the scenery and serenity of such a wonderful place."
Very quickly though, the relative calm of the first two years on Nevis was replaced by the fast-paced life of clinical rotations in Atlanta. "The clinicals are a great opportunity for students to excel and really discover their passion." For Dr. Jose, that passion was in internal medicine and pediatrics. Upon graduation, he spent a year doing research in pulmonary medicine at Mt. Sinai Hospital in NY.  A native of Queens, he liked being back home and was offered a position, but when Northeast Ohio University College of Medicine in Youngstown, Ohio offered a residency that combined internal medicine and pediatrics, he jumped at the chance and eventually rose to become a Chief Resident.
Dr. Jose remained in the Youngstown area, caring for patients of all ages in both a private practice and hospital setting. In addition, he served as a Clinical Assistant Professor of Medicine at Northeast Ohio Medical University, was the Director of Adolescent Medicine Clerkship at Western Reserve Care and was a key faculty member to the internal medicine residency program with Valley Care. He is now in Palm Beach County, Florida at Bethesda Hospital in Wellington.
While classes at MUA were small in Dr. Jose's time, they had grown larger by the time his sister Jasmin went there. "We are an MUA family," he says.  "Jasmin is a specialist in infectious diseases. We both rave about MUA and how it got us to where we are today."