Kara Roncin, MD
Pathology Residency at Case Western Reserve University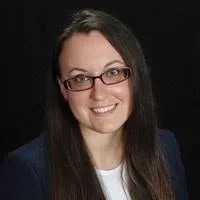 Growing up in small town in central Canada, Kara Roncin was used to a world where everyone knows your name. At Medical University of the Americas, she thrived in the atmosphere of community and hard work that helped propel her to a pathology residency at Case Western Reserve University. 
Kara Roncin grew up in Allan, Saskatchewan, an hour's drive from Saskatoon. She always knew she would become a doctor. "I knew from an early age that medicine was where I wanted to spend my career, no matter how long and grueling the road to get there was."
Attending MUA on Nevis, she was delighted to discover an atmosphere much like what she knew at home. "I loved living on the island. I was totally immersed in my work there. And because it's a small school, the professors really do get to know you. They took the time to interact with us outside of class. I am still in touch with several of my professors. We were all that close and considered our classmates to be a family in itself on the island."
But after a small town and a small island, her clinicals took her to a series of major U.S. cities where she discovered just how extensive and diverse the world of medicine can be, an experience that paved the way for her to obtain her residency in pathology at Case Western Reserve University / University Hospitals Case Medical Center.
"One of the great things about our clinicals at MUA was the opportunity to work in so many different hospitals and see what diseases are more prevalent in different parts of the country. I have been lucky enough to treat patients with rare diseases we had been told no one would ever see in practice, in addition to exposure to many common conditions currently found in society. Traveling across the country also allowed me the chance to learn about and interact with different cultures, particularly the Latino community, and appreciate the complex role society has in the health care of a large percentage of the population. It really changes the way you think about medicine."
Kara was a top student in her class at MUA, and the first student that the school had ever named as a tutor. She tutored in histology for multiple terms in addition to regular TA and volunteer duties. "I felt that I was very well trained at MUA. During clinicals, patients would tell me that I was an incredible doctor and they wanted me to come back and practice at that hospital, a sentiment I heard repeated with every rotation. We also interacted with students from a lot of different schools across the Caribbean and the United States, so I was able to see how well prepared we are at MUA!"
The pathology residency at Case Western Reserve University /University Hospitals Case Medical Center was her top choice. "I was always intrigued by pathology and fell in love with it during my clinical rotation. Looking at the slides is like working on a puzzle and it's up to me as the pathologist to figure out how they all fit together with the clinical picture of the patient."
"It's a completed picture," she says, "that would not have happened for me without MUA."