Mrinalini Krishnan
Regional Director of Pulmonary Hypertension at MedStar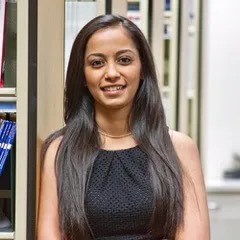 Dr. Mrinalini Krishnan was recently designated as the Regional Director of the Pulmonary Hypertension Program for the MedStar Heart and Vascular Institute in the Washington, D.C., and Baltimore area. Her specialization and competencies are focused on advanced heart failure, heart transplantation and pulmonary hypertension, providing care to these critical patient populations.
"I think heart transplantation is truly a modern miracle. We meet patients at their very sickest and we offer them hope, either through a heart transplant or a heart pump called an LVAD, a left ventricular assist device. We often first encounter our patients at the brink of death and get them through surgery and recovery for a second chance at life, and it is just so rewarding. For our pulmonary hypertension patients, we are able to offer oral, inhaled and even intravenous medications, to literally help them breathe and get their lives back." 
Graduating with 'Great Distinction' from the University of Saskatchewan in Saskatoon, Canada, for her undergraduate degree, she majored in Computer Science while also completing all her pre-requisites for medical school. "I really enjoyed computer science. At face value, it sounds completely different from medicine, but at their cores, the logical and algorithmic thought processes utilized in both disciplines are actually quite similar. We assess a problem, work though potential solutions methodically through a variety of tests and accordingly implement a plan to address the underlying issues. I think very analytically, which is essential in both computer science and medicine." As a young child having promised her grandfather, who suffered from heart disease, that she would one day be his cardiologist, she went on to choose medicine as a career and enrolled at Medical University of the Americas in 2007.
"I thoroughly enjoyed my experience at MUA" she shares, serving as her class President while on the island of Nevis, and receiving the coveted 'Dean of Clinical Medicine Award'. During her clinical rotations, she chose to maximize her exposure to different institutions and mentors across the US and Canada to have a varied educational experience and better her match opportunities. While in her Internal Medicine Residency at UPMC PinnacleHealth Hospital in Harrisburg, PA, she was selected by the Penn State University medical students every year for the 'Residents as Teachers Award'. She also received the 'Excellence in Research Award' from PinnacleHealth and the 'Exemplar of Professionalism Award' from the American College of Physicians.
She went on to complete three successive fellowships in the field of cardiology with subspecialty training in advanced heart failure and transplant cardiology, earning prestigious accolades and awards along the way. One of the most notable of these was the 'International Society of Heart and Lung Transplantation (ISHLT) Traveling Scholarship', which allowed her to travel to Brazil and care for patients with Chagas cardiomyopathy, an endemic cause of heart failure in the area. During her cardiology fellowship at Guthrie Robert Packer Hospital, she was named the Chief Fellow, earned the 'Fellow of the Year Award', and was selected by the residents as the 'Teaching Fellow of the Year' for all three years consecutively.
She is a Fellow of the American College of Cardiology and a member of the Pulmonary Hypertension Association. She also serves on the ISHLT Heart Failure and Transplant Council and as a reviewer for the Journal of the American College of Cardiology, the European Society of Cardiology Journal and BMJ Case Reports. She has published over 15 manuscripts and has presented numerous posters and oral presentations at national and international medical conferences in her short career thus far. Her abundant passion for education has also led to her appointments as the Cardiology Educational Chair for the MedStar Baltimore Internal Medicine Residency program, the Course Director for the Cardiology elective rotation at Georgetown University School of Medicine, and subsequently the Associate Program Director for the Advanced Heart Failure and Transplant Cardiology Fellowship program.
"Medical University of the Americas gives you the opportunity to follow your dreams, and in my case my childhood promise, to become a cardiologist. I loved going to a school that was so incredibly supportive of me throughout my medical school and training journey. I am where I am today because of MUA, and for that I will always be grateful."