Shehahn Soundranayagam
MUA 2019 Graduation speaker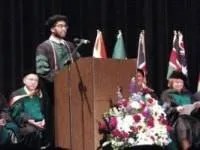 Thomas Edison once said that "Our greatest weakness lies in giving up. The most certain way to succeed is to always try just one more time."
This year's Medical University of the Americas commencement speaker perfectly embodies Mr. Edison's words. Shehahn Soundranayagam is the only child of immigrant parents from Sri Lanka, who came to Canada to flee the civil war. Fascinated as a child by all of the complexities of living things and inspired by Bill Nye the Science Guy, Shehahn thought that medicine would be the best way to both understand the human body and to take part in fixing it.
In pursuit of his dreams, Shehahn studied actuarial science and biology at the University of Toronto as a premedical student. However, based on his academic performance, he did not feel that he was competitive for admission to Canadian medical schools. After completion of his studies, Shehahn started a career in pharmaceutical consulting. Yet his true passions remained unfulfilled. He quit his pharmaceutical job and decided that he wanted to pursue medicine no matter what. And we at MUA were fortunate to welcome this exceptional student into our medical program.
Today Shehahn is graduating academically as the top performing student in his class. Not only does he have the highest USMLE Step 1 of any student in his graduating class, but he also has two of the highest USMLE scores of all time at MUA and likely is amongst the top scoring of most who have taken the test. But even with his stellar academic performance, he has always remained humble, and is loved by all of his attending physicians, peers, and patients. He demonstrates compassion and empathy in all of his work. He was an exemplary medical student and will be an even more admirable physician.