Puja Naik, MD
CEO, Neurology and Epilepsy Specialists, LLC.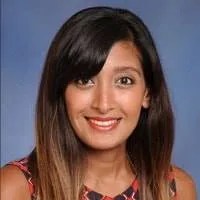 Each year, some 150,000 people in the US are diagnosed with epilepsy. It's the 4th most common neurological problem (after migraine, stroke and Alzheimer's disease) and a focus for many neurologists, including Puja Naik, a 2010 Medical University of the Americas graduate.
Board certified and now practicing in Miami, FL, Puja has published articles on epilepsy, is a partner in First Choice Neurology; the CEO of Neurology and Epilepsy Specialists, LLC; and is a Staff Neurologist at Baptist Health South Florida-Homestead Hospital.
Puja excelled at MUA, receiving the Dean of Basic Science award for the highest GPA in her class, all the while managing to conduct regular neuroscience tutorial sessions for her fellow MUA students.
"I had great experiences at MUA, and close and personal relationships with the professors there because of the small class size. MUA taught me to be more flexible and more adaptable to changing situations and this has greatly benefitted me in my medical career."
Puja matched into her No. 1 choice for neurology at Hofstra North Shore–LIJ School of Medicine in Manhasset, N.Y., now known as Northwell Health, and happily came back to the New York area where she was born and raised.
Northwell has one of the largest residency programs in New York State and Puja was a standout. "U.S. medical school grads often approached me to say that they couldn't believe that I had the knowledge base that I had. I told them that my education was terrific at MUA. Winning MUA's 'Dean of Basic Sciences' award was also hugely motivating for me and I truly felt then, and continue to feel, that the sky is the limit."
At the completion of her three year residency Puja was recruited for a one year program in Clinical Neurophysiology-Epilepsy at Northwell. During that time she published a widely disseminated paper analyzing research on motor vehicle drivers with epilepsy. Many states have specific regulations on this, but Puja found that the evidence supporting any one approach hasn't been established.
"People advise about not driving for a year, not driving for 6 months [after the last seizure] for state regulations, but we don't have anything that shows why they should or shouldn't drive for a certain length of time. It's really important for the patient because quality of life can suffer from not being able to drive."
Puja recently moved to Miami with her husband, Padam Bhatia, a psychiatrist and co-founder of The Center for Mind and Wellness. She is currently a partner in a large neurology practice, Neurology and Epilepsy Specialists, LLC, and continuing her epilepsy work, putting protocols in place for seizures and strokes at Homestead Hospital. She will also be taking the Epilepsy board certification exam this fall.