Rupen Baxi, MD
Surgeon, Associate Director of Fellowship Program at Center for Innovative GYN (CIG) Care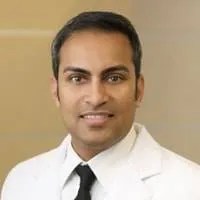 Minimally invasive surgical techniques are revolutionizing gynecological care and one of the medical groups leading the way is the Center for Innovative GYN Care (CIGC) where Dr. Rupen Baxi, a graduate of Medical University of the Americas, is a member of the surgical staff and Associate Director of its Fellowship program.
"In just the last few years, a wide range of gynecological conditions that once required open abdominal surgery are now being treated with less invasive approaches," said Rupen. "The advantages are significant, including less pain, faster recovery and reduced chance of complications."
Rupen started focusing on minimally invasive gynecology upon graduating from MUA, going first to an internship in General Surgery at the Jewish Hospital of Cincinnati and then an OB/GYN Residency at Richmond University Medical Center/New York Medical College in Staten Island, NY; followed by a Fellowship in Minimally Invasive Gynecological Surgery at Mohawk Valley Health System/St. Elizabeth's Hospital in Utica, NY, a fellowship program of the American Association of Gynecologic Laparoscopists (AAGL).
Rupen also completed an OB/GYN residency at Michigan's William Beaumont School of Medicine at Oakland University where he was awarded the Special Resident in Minimally Invasive Surgery Award, sponsored by the AAGL. He also received the Arnold P. Gold Foundation "Teaching and Humanism in Medicine" Award.
In addition to his proficiency in minimally invasive surgical techniques, Rupen regularly publishes in the Journal of Minimally Invasive Gynecology and has presented scientific findings from multiple research studies at major national meetings on topics such as Bloodless medicine and Pelvic Organ Prolapse.
As the associate director of the CIGC Fellowship program, Rupen oversees two years of continuous surgical education and hands-on training. "Our fellowship program is really a continuation of our commitment to being at the forefront of the revolution in minimally invasive gynecological care."
MUA was more than just the start of Rupen's medical career: he is married to MUA alumna Vaishali (Soni) Baxi and they have 3 children. Vaishali is an Internal Medicine Hospitalist at Suburban Johns Hopkins Hospital in Bethesda, MD as well as at Adventist Healthcare Shady Grove Medical Center in Rockville, MD.