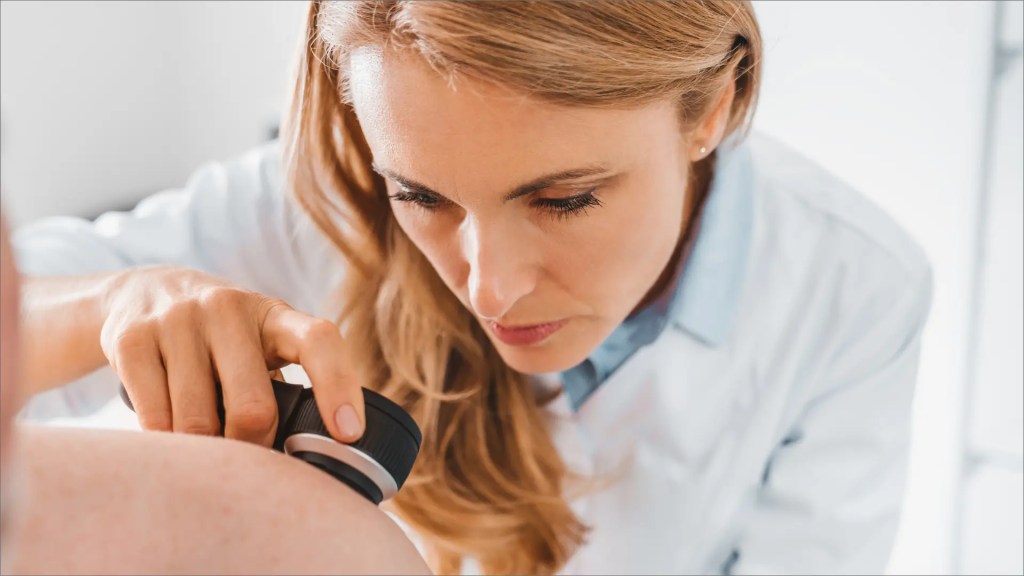 A guide to becoming a dermatologist
Read our detailed guide on education and training required to become a dermatologist.
Are you interested in helping people maintain healthy skin? If this sounds like you, then a career in dermatology might be the perfect choice. Working as a dermatologist, you will diagnose and treat skin conditions while also helping your patients to look and feel their best. Read on to find out more about what a dermatologist does, how you can become one, and whether a career in dermatology is right for you.
What is a dermatologist?
A dermatologist is a medical doctor who specializes in the prevention and treatment of more than 3,000 hair, skin, nail, and mucous membrane conditions. There are around 44 million visits to dermatologists each year in the United States. Dermatologists provide care to people of all ages, for such conditions as:
Acne

: Based on the severity of the acne, a dermatologist will treat it with topical applications, chemical peels, the removal of large cysts, or light therapies such as lasers

Dermatitis

: Dermatitis includes skin conditions that cause irritation and inflammation, such as cradle cap, eczema, and allergic reactions

Hair loss

: A dermatologist will determine the underlying cause of hair loss and treat if possible

Infections:

A dermatologist can diagnose the cause of infections and prescribe an appropriate treatment

Nail problems

: Common nail issues treated by dermatologists are spots, nail separation, and discoloration

Skin cancer

: A dermatologist can remove cancer cells and monitor the patient to ensure it doesn't return
Internal medicine doctors and general practitioners can diagnose and treat these conditions. However, a dermatologist has a deeper understanding and greater experience in these types of conditions. Primary care doctors will frequently refer patients to a dermatologist for specialized care.
Besides these cosmetic and medical skin-related issues, dermatologists can also recognize the symptoms of other serious underlying health issues. The skin is the body's largest organ and the first line of defense against injury and pathogens. It can often be a good indicator of overall health. For instance, diabetes can impact the skin's appearance, and a dermatologist can be the first healthcare provider to recognize the signs.
What does a dermatologist do?
Like most medical doctors, the day-to-day duties of a dermatologist are as varied as the patients they care for. They provide life-changing diagnoses and treatments to restore health, prevent illness, and improve life for both children and adults. Dermatologists also provide their patients with education and preventative care for skin and other related health issues. For example, they may perform skin surveys to find precancerous lesions among patients with a high risk of skin cancer. This can help to alleviate pain and vastly improve the lives of patients living with debilitating skin conditions. As part of their day-to-day responsibilities, a dermatologist will:
Meet with patients

: A dermatologist will record the patient's medical history, perform patient examinations, spot any irregularities, and discuss a diagnosis.

Develop treatment plans

: Dermatologists may prescribe medications, remove the abnormality, perform surgery or take biopsies for further research.

Address cosmetic concerns

: A dermatologist uses tools such as lasers to treat birthmarks, Botox to tackle wrinkles, and skin grafting for patients with severe scarring.

Perform follow-up examinations or treatments

: Dermatology treatments often need numerous sessions to resolve the issue and for the dermatologist to track patient progress.
Dermatology procedures
Dermatologists also carry out a variety of procedures, such as:
Biopsies:

Dermatologists perform different biopsy procedures to diagnose or rule out conditions, such as skin cancer.

Chemical peels

: This treatment removes damaged skin, rejuvenates new skin and reduces the signs of aging.

Cosmetic injections

: Dermatologists use cosmetic injections such as fillers or Botox injections to help reduce the appearance of sagging skin and wrinkles

Cryotherapy

: A treatment for certain skin conditions such as certain tumors, warts, and skin tags.

 

Dermabrasion:

A dermatologist uses this exfoliating procedure to reduce the appearance of age spots, fine lines, precancerous skin patches, and acne scars.

Laser therapy:

Laser therapy can be used to remove moles, warts, tattoos, sun spots, blemishes, acne scars, unwanted hair, or wrinkles.

Mohs surgery:

Dermatologists use this type of skin cancer surgery to remove thin layers of tissue around a tumor while looking for signs of other cancer cells.

Sclerotherapy:

Dermatologists use sclerotherapy to treat varicose veins by injecting chemicals into damaged veins.

Surgical excision:

A dermatologist performs a surgical excision to remove growths like lesions, moles, and skin tags.

 

Tumescent liposuction:

The removal of unwanted fat from certain areas of the patient's body.
How to become a dermatologist?
To become a dermatologist in the United States, you will need to have an up-to-date license. While requirements will slightly vary depending on the state, most require dermatologists to hold a degree from an accredited medical school, undertake a residency program, and pass the U.S. Medical Licensing Exam. Therefore, to become a dermatologist, you will need to:
Gain a bachelor's degree

Pass the MCAT

Attend medical school

Pass the first two parts of the USMLE

Complete your residency

Pass the third part of the USMLE

Get a license

Become board certified
How long does it take to become a dermatologist?
It can take up to 13 years to become a dermatologist. This includes time spent as an undergraduate, in medical school, and residency.
Residencies and fellowships for dermatologists
After completing medical school and one year of approved postgraduate training, dermatologists will spend the next three years training in an ACGME accredited dermatology residency training program. There are 150 accredited dermatology programs in the United States.
Following certification by the American Board of Dermatology (ABD), a dermatologist can choose to pursue further specialized training in dermatopathology, micrographic surgery, pediatric dermatology, and dermatologic oncology. This involves one year of training in an approved fellowship training program.
How much do dermatologists make?
The average dermatologist salary in the United States is $300,000 per year, equivalent to $154 per hour. Entry-level dermatology positions typically start at around $78,000 a year, while more experienced dermatologists can expect to make up to $450,000 a year.
Salary ranges vary considerably depending on your education, certifications, additional experience, and the amount of experience. Your geographical location can also impact how much you will make as a dermatologist. The table below shows the average salaries of dermatologists across some U.S. regions:
| Region | Annual Salary per Year |
| --- | --- |
| Florida | $102,545 |
| California | $270,000 |
| New York | $350,000 |
| Massachusetts | $300,000 |
| Pennsylvania | $400,000 |
| Washington | $350,000 |
| South Dakota | $500,000 |
| Ohio | $100,000 |
| Indiana | $146,250 |
Is dermatology right for you?
To be a successful dermatologist, you need to take a thorough and disciplined approach to your work and have strong observational skills. You also need a strong interest in medical science, as new technologies are constantly transforming how dermatologists assess, diagnose and treat.
But dermatology isn't all about hard work. It is one of the key medical and healthcare specialties that provide a high standard of job satisfaction and work-life balance. There are several reasons to choose to become a dermatologist, for example:
Offers standard full-time working hours of 9am to 5pm

Access to a wide variety of clinical cases

Opportunity work remotely

Great work/life balance

Huge job satisfaction
However, as with most professions, dermatology also has its challenges:
A large amount of telephone-based appointments

Outpatient-based specialty

Highly competitive field

Big jump in clinical responsibility from medical training
Skills to be a dermatologist
You should consider pursuing a career in dermatology if you have the following skills:
Attention to detail

: Dermatologists need to have excellent attention to detail to identify and track minor changes in a patient's skin condition.

Communication skills

: Dermatologists must communicate diagnoses and treatment information to patients. They must speak and write clearly and be able to listen carefully.

Organization skills

: Working with hundreds of patients every month requires a dermatologist to have excellent organizational and record-keeping skills.

Problem-solving skills

: Dermatologists need strong problem-solving skills to identify effective treatments when assessing skin conditions.

Excellent memory

: Dermatologists must have an encyclopedic memory to recall the thousands of health problems that can manifest on hair, nails, and the skin and recognize the symptoms of these conditions.

Enjoy making people look good

: The cosmetic side of dermatology requires a dermatologist to feel good about making their patients look good.
If you are interested in pursuing a rewarding career in dermatology, your first step is to apply to a quality medical school.
Useful Links
Get in touch for more information