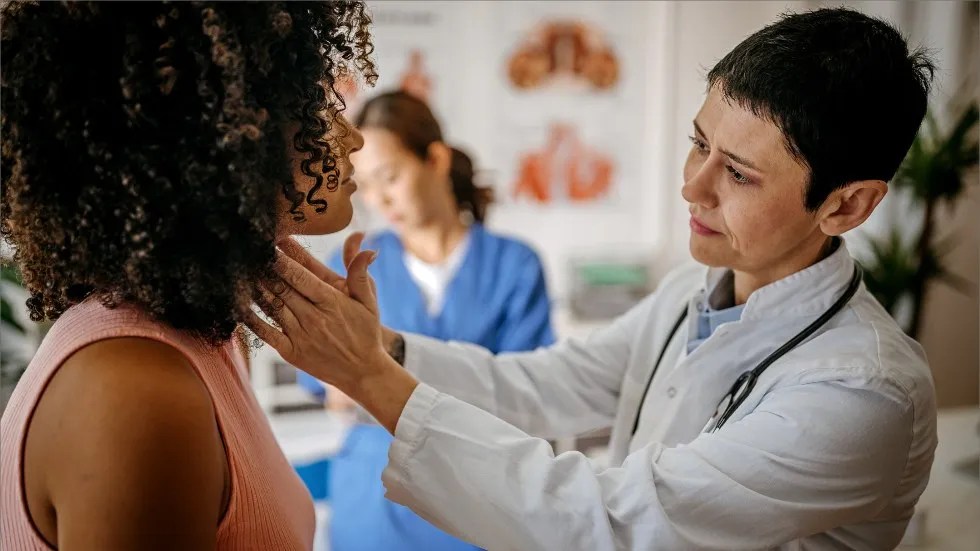 How to become an Endocrinologist?
Discover more about a career as a endocrinologist with MUA's guide to answer your questions.
Are you an avid puzzle solver? Do you have a scrupulous eye for detail? Are you one of life's natural leaders? Do you find people are drawn to your calm and empathetic nature? If you can answer yes to these questions, endocrinology might be the medical specialty for you.
Endocrinology is considered one of the most laid-back medical specialties because it doesn't involve emergencies. While you won't be dealing with many urgent situations, you will find yourself diagnosing and treating a vast range of diseases and disorders. You will also play a critical, valued and trusted role in the lives of patients with endocrine conditions. Endocrinology marries clinical medicine and diagnostic excellence with patient care. If this is the specialism you have been looking for, read on to find out more.
What is endocrinology?
Endocrinology is a subspecialty of internal medicine. Endocrinology programs at MUA  enable students to research and understand the conditions caused by disease and genetic disorders, focusing largely on the organs of the endocrine system. Students will learn how dysfunction in an organ influences the production of the various hormones needed for the human body to function.
Part of the program will also be to understand how these abnormalities impact the function of the glands, and in turn, how these irregularities can trigger multiple hormonal imbalances. Students will examine:
Cancer biology

Drug design

Membrane biology

Virology

Metabolism

Differentiation

Signal transduction

Morphogenesis

Toxicology

Gene transcription
They will ascertain how hormones impact the following:
Growth

Weight

Sleep

Mood

Sensory perception

Reproduction

Menstruation

Lactation

Organ function

Digestion
Alongside clinical study, the student will further develop their patient care skills. Part of fully transitioning into a successful endocrinologist is the ability to understand how to deliver diagnosis and prognosis, as well as managing treatment options and all the challenges these options may incur.
What does an endocrinologist do?
Endocrinology covers a vast field of subspecialties, devoted to the specific areas where our hormones are situated. Within a clinical setting, some of the subspecialties include:
Pediatric endocrinology

Neuroendocrinology

Reproductive endocrinology

Thyroid endocrinology

Endocrine-disrupting chemical

Comparative endocrinology
Endocrinologists who take up positions in hospitals and clinical labs will spend time in the laboratory and face to face with patients.
An endocrinologist will study the medical records of patients and listen to their symptoms. They will also diagnose, treat and manage many endocrine conditions. An endocrinologist will put together plans for exercise and diet for their patients. In addition, they will regularly perform diagnostic tests to check the progress of their patients. In parallel with patient care, the endocrinologist will work with other physicians to treat complicated conditions. With more experience, an endocrinologist will train students and give feedback.
Clinical endocrinologists deal with patients on a daily basis, spending on average 15–25 minutes per consultation. An endocrinologist will usually work within a multi-disciplinary team.
Graduates also opt to transition into education, academia, or research settings. Other endocrinologists make their way into industry and private business. Some endocrinologists will choose to run their own private clinics or pursue a career in this field within government regulation.
What conditions do endocrinologists treat?
Endocrinologists treat conditions stemming from imbalances of hormones or the endocrine system itself. Hormones play a critical role in growth, respiration, movement, reproduction and metabolism. Common diseases and conditions treated by an endocrinologist are:
Diabetes mellitus

Hypothyroidis

m

Hyperthyroidism

Thyroid disorders
Some of the other disorders and diseases that an endocrinologist treats are:
Infertility

Certain cancers

Conditions that affect growth

Cushing's syndrome

Addison's disease

Polycystic ovarian disease
How to become an endocrinologist?
Becoming an endocrinologist takes a considerable amount of time, so it is a career path students must aspire to in order to maintain their commitment and enthusiasm. Below is the most likely route a person will take to become an endocrinologist.
To begin with, an individual will complete a bachelor's degree, usually a science-based course such as biology or chemistry.

The future endocrinologist must complete a 4-year course at medical school.

After graduating from medical school, the student will undertake a residency in internal medicine. This takes three years and during this time residents will be directly diagnosing and treating their patients.

Following residency comes board certification in internal medicine, awarded through the American Board of Internal Medicine (ABIM).

Once a student is board certified, they can complete a fellowship in endocrinology. This fellowship focuses primarily on treating patients with problems related to the endocrine system.

The final board certification in endocrinology is awarded after passing the Endocrinology, Diabetes and Metabolism Exam, administered by the ABIM.
MUA offers this specialization as well as a variety of endocrinology fellowships. We strive to strengthen and expand our programs so that we can provide the best courses available.
How much do endocrinologists make?
The average salary for an Endocrinologist ranks higher than family medicine doctors and practitioners of pediatrics. The average salary for an endocrinologist in the USA is $211,185. This will depend largely on your experience, subspecialism, and the location in which you work. It is also worth noting that some endocrinologists will earn significantly more than this, while others will earn less.
| State | Average Annual Salary |
| --- | --- |
| New York | $275,037 |
| Massachusetts | $292,431 |
| Pennsylvania | $237,400 |
| Washington | $264,396 |
| Connecticut | $257,275 |
| Alaska | $228,805 |
| Ohio | $233,176 |
| Utah | $214754 |
| California | $177,188 |
| Florida | $216,927 |
Is a career in endocrinology good for you?
A career in endocrinology is hugely rewarding and fulfilling. However, determining whether it is the right branch of medicine for you is important. It is a career that involves the acquisition of huge amounts of knowledge on a vast range of diseases involving the endocrine system.
If you are an aspiring endocrinologist, you will need this specific skill set in order to make this career a success for you.
Communication skills
An endocrinologist interacts daily with patients, often educating and counseling the patients. This is an essential part of the role, so it is vital that you are comfortable with communicating information clearly so that patients understand their condition and how to follow treatment plans. An endocrinologist is also part of a multi-disciplinary team and will need to communicate orally in written form, disseminating test results and data.
Attention to detail and problem-solving skills
An endocrinologist is responsible for seeking out abnormalities within the endocrine and hormonal system. Diagnosing disease or disorders requires keen attention and the ability to examine test results, digging deeper when complexities arise.
Leadership skills
An experienced endocrinologist will sometimes work in a large team and at other times work in smaller groups or independently. Managing other students and residents will become part of your duties. Knowing how to direct others and manage your own considerable workload is paramount.
Empathy
Situations will arise where you are communicating a diagnosis that is going to be life-changing for the patient and their family. Being able to deliver this with empathy at the same time as maintaining clarity and imparting the appropriate information is vital.
Information technology
Much of the laboratory work involves using complex technology that will update constantly. Being competent in the use of and maintenance of technology is a must for an endocrinologist.
Physical stamina
The average working week for an endocrinologist is over 40 hours. Working long hours in a laboratory and in a clinic requires good physical stamina.
If this skill set matches yours, a lucrative and successful career in endocrinology could be in your future. If you see yourself immersed in this challenging but rewarding area of medical specialism, MUA can get you there. If you are still considering which specialty is the right one for you, we can answer the questions that need answering. Don't wait, contact us today.
Useful links
Get in touch for more information