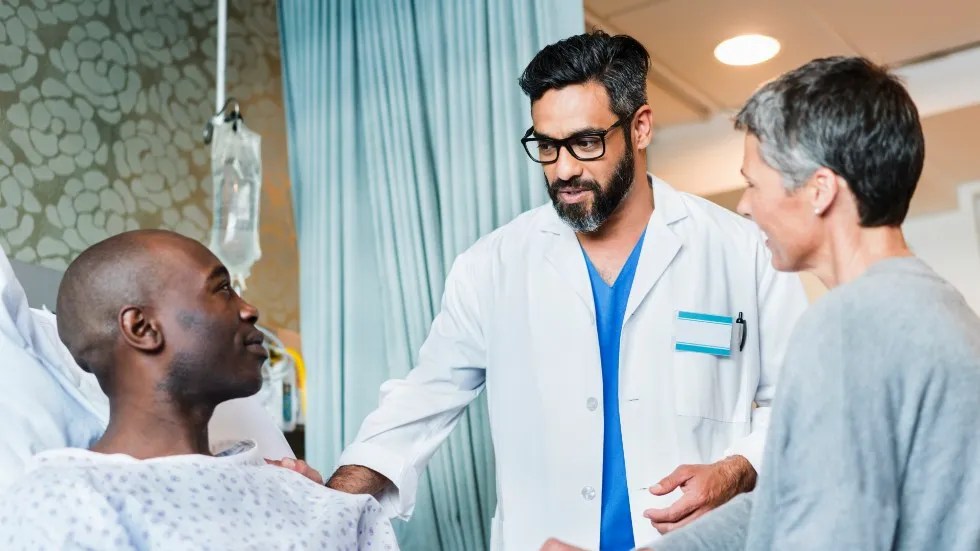 What is a hospitalist and what do they do?
A hospitalist is a licenced physician who provides care for patients at a hospital. Find out more about what it means to be a hospitalist.
Choosing which path your medical career should take can sometimes feel daunting — there are so many possible routes, areas, and specialisms to follow. Finding the perfect course for your career, which will offer you the career challenges and life you're looking for, takes time and consideration.
In your research, you've probably come across an intriguing area of medicine known as a 'hospitalist.' Much like oncologists specialize in cancer and cardiologists treat the heart, hospitalists specialize in something too — working in a hospital setting. A hospitalist is a licensed physician who practices in a hospital, treating patients who are required to stay in the hospital due to a variety of illnesses and injuries.
Hospitalists are one of the newest medical specialties, with the term first coined in 1996. Their presence came about as a reaction to increasingly complicated patient cases that required dedicated physicians instead of clinicians who were juggling other clinical responsibilities simultaneously. This gap in the medical workforce became clearer, and as a result, the hospitalist specialism was created.
Read on to discover what exactly a hospitalist does, how they help to save lives, and whether this career route is the one for you.
What does a hospitalist do? 
In the simplest terms, a hospitalist is a doctor who cares for patients who have been hospitalized. In a hospital full of other physicians, their role plays an important part in the recovery and discharge of patients. A hospitalized patient might see many specialists during their stay, each of whom will treat the patient with care and consideration. However, once the specialists' work is done, they will be called away to a referral for a different patient. This is also true for nurses and technicians — they will come and go throughout a patient's hospital stay. Hospitalists offer the patient a familiar face as their primary contact during their time in the hospital. They know the patient better than anyone else and can lead on coordinating referrals and treatment. They advocate for the patient and remain a consistent presence throughout the patient's recovery journey.
Since their creation and introduction into the hospital system, hospitalists have been making a significant impact on the patients they care for. They have been linked to increased hospital efficiency and improved outcomes. The Society for Hospital Medicine states that the involvement of a hospitalist in a patient's hospital stay can reduce its length by 20%.
What are the requirements to become a hospitalist?
There are six key stages to becoming a hospitalist, which can take around 11 years to complete in total. These are:
Earn a bachelor's degree in an undergraduate pre-med program

Take the Medical College Admission Test (MCAT)

Earn a medical degree

Earn the required medical license

Complete a residency program

Complete an exam in hospital medicine
Medical schools have different requirements for admission to their programs, but they all focus on common areas of study, including anatomy, chemistry, calculus, physics, and biology. A minimum of 3 years of undergraduate completion is required before applying to medical school, and applicants must maintain a strong  GPA in the sciences. If you have three years of college but no bachelor's degree, you may still be accepted to medical school.
These programs are extremely popular, with candidates across the country applying for a limited number of positions. Great grades will get you far, but the most successful course candidates are those who can also show a fantastic array of experience across work, extracurricular activities, volunteering, and shadowing. Medical school application boards will also want to see letters of recommendation and your MCAT scores.
Once medical school has been completed, students who wish to become hospitalists must complete three years of residency. Aspiring hospitalists usually opt for a residency in internal medicine, pediatrics or general family medicine. After finishing residency, the final step is to complete a board certification exam in hospital medicine.
What is the difference between a hospitalist and an internist? 
A hospitalist is a physician with the specific training required to work in a hospital setting. An internist is a medical doctor who specializes in providing treatment for disorders and injuries of the internal organs. One physician could simultaneously be an internist and a hospitalist if they practice internal medicine exclusively in a hospital setting.
The job responsibilities of a hospitalist include:
Organizing and analyzing patient records to ensure patients are connected to the best treatment plan

Communicating test results, treatment options, and risks to patients and their family members

Treating a range of internal disorders, including hypertension, heart disease, and diabetes

Training medical students and residents
The job responsibilities of an internist include:
Analyzing patient records to make informed diagnoses

Recommending patients to specialists when necessary

Monitoring the conditions of patients and modifying treatment plans accordingly

Directing the activities of nurses and other patient care staff
Average hospitalist salary 
The 2020 State of Hospital Medicine (SoHM) Report shows that hospitalist salaries are rising at significant rates across the country. However, the report also notes significant regional variability in salaries for hospitals across the country.
Hospitalist Salaries by Percentile and Hospitalist: Salaries per Region
| Percentile | Salary | Location | Last Updated |
| --- | --- | --- | --- |
| 10th Percentile Physician – Hospitalist Salary | $182,444 | U.S. | June 28, 2021 |
| 25th Percentile Physician – Hospitalist Salary | $208,477 | U.S. | June 28, 2021 |
| 50th Percentile Physician – Hospitalist Salary | $237,070 | U.S. | June 28, 2021 |
| 75th Percentile Physician – Hospitalist Salary | $268,561 | U.S. | June 28, 2021 |
| 90th Percentile Physician – Hospitalist Salary | $297,231 | U.S. | June 28, 2021 |
What are some hospitalist subspecialties?  
Depending on the size and needs of the hospital where they work, hospitalists will sometimes take on a specialist role. This is especially true of doctors who enter the hospitalist profession from other fields such as surgery, neurology, or pediatrics.
Medicine is a constantly evolving practice, and a hospitalist will experience this as their role grows and develops. There is an ever-widening range of subspecialties that a hospitalist may choose to pursue:
Surgicalists

are surgeons who work exclusively in surgical wards

Admitists

are responsible for the appropriate admission and discharge of patients

Neurohospitalists

care for patients who are being treated or are at risk of neurological problems

Nocturnists

are hospitalists who work 12-hour night shifts

Proceduralists

oversee and perform procedures like lumbar punctures, catheter insertions, enteral feeding, oxygen intubation, etc

Rounders

are hospitalists who devote their full attention to admitted patients
For more information about medical specialties, find out how we can help you understand what's available.
Useful Links
Get in touch for more information