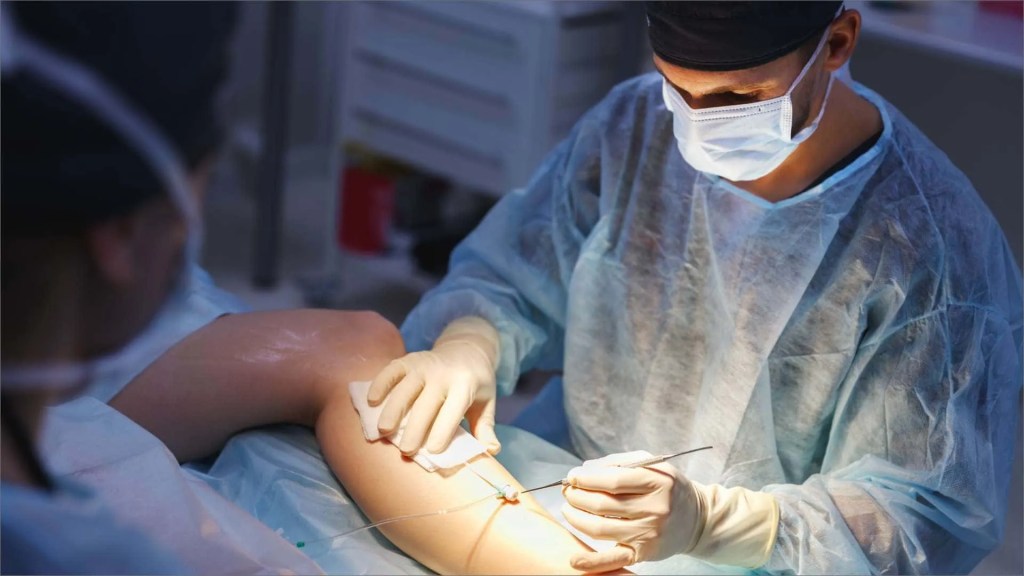 Who is a vascular surgeon?
Discover more about a career as a vascular surgeon with MUA's guide to answer your questions.
Vascular surgeons are responsible for managing and diagnosing conditions of the vascular system. They treat issues within the veins and arteries and are required to undergo extensive training.
If you're thinking of choosing this career path, it helps to understand more about what the role involves. Here, you'll learn everything from the common procedures you'll carry out, to the average vascular surgeon salary. Read on to discover if becoming a vascular surgeon is right for you. 
What is Vascular Surgery?
Vascular surgery is a specialty within the medical sector. It focuses on correcting and managing conditions of the vascular system and wasn't identified as a specialty until 2012. Those who train within this field are referred to as vascular surgeons.
Some of the main conditions you can treat with vascular surgery include:
Aneurysms

Deep Vein Thrombosis (DVT)

Carotid Artery Disease

Atherosclerosis

Venous disease
There are several vascular conditions that do not require surgery as part of their treatment. However, where it is required, there are several types of procedures you can undergo.
What Does a Vascular Surgeon Do?
The role of the vascular surgeon is varied. While surgery is a key part of the role, it also includes diagnosing and managing patients who don't need an operation. Many vascular conditions can be treated through exercise or medication alone. This means a lot of your time will include talking to patients about their options.
As a vascular surgeon, you will be trained in all types of procedures. These include minimally invasive, complicated procedures, and open surgery.
Primary care doctors can refer patients to a vascular surgeon for a variety of conditions. The only vein conditions they don't treat are those related to the brain and heart.
What are some common vascular surgery procedures?
As a vascular surgeon, you will be responsible for diagnosing and treating a wide range of conditions. Some will require a surgical approach, while others can be treated through medication. Some of the most common vascular surgery procedures you may need to carry out include:
Endovascular Procedures
Endovascular procedures are minimally invasive, including the following types:
Thoracic endovascular aortic repair

Endovascular aneurysm repair

Angioplasty with stenting

Cryoplasty
Thoracic endovascular aortic repair and endovascular aneurysm repair procedures are similar in how they are performed. They can be carried out with or without incisions, and a stent graft is used to repair the aneurysm. These types of surgeries are recommended for patients who aren't suitable for open surgery.
Angioplasty with stenting involves using a catheter to insert a balloon that will widen narrow arteries. During the procedure, a stent is placed inside the narrow artery, helping it to remain expanded. It is typically used to treat peripheral artery disease and cerebrovascular disease.
Cryoplasty also uses a balloon guided by a catheter, though it is used to repair a complete blockage. When the balloon gets to the blockage, the surgeon fills it up with a liquid solution of nitrous oxide. The solution turns into a gas, inflating the balloon and freezing the tissues around it. This causes the artery to open, while also preventing excess scar tissue. It is used to treat patients with peripheral artery disease.
These are just some of the main minimally invasive procedures you'll carry out as a vascular surgeon.
Bypass Surgery  
A more intensive option for treating blocked arteries is bypass surgery. This redirects the flow of blood away from the damaged or blocked artery. A graft is used to aid in the procedure — either taken from your own vein or using one made of synthetic materials.
Bypass surgery is typically carried out as a last resort for those with peripheral artery disease, renal vascular disease, and vertebrobasilar disease.
Open Abdominal Aortic Surgery
Open abdominal aortic surgery can be carried out to treat aneurysms or blockages. The surgeon gains access to the aorta through incisions in the abdominal. A fabric-based graft will then be used to either redirect blood flow around the obstruction, or to repair an aneurysm.
This type of surgery is carried out on patients with abdominal aortic aneurysm, or aortoiliac occlusive disease.
Alongside surgical procedures, vascular surgeons also prescribe medications to patients. They may also make recommendations for lifestyle modifications they need to make.
Is Vascular Surgery a Good Career Choice?
Vascular surgery is a diverse career choice where no two days are the same. A study published within the Journal of Vascular Surgery revealed that candidates choose the role due to the complex decision making and technical aspects involved.
You can expect good job stability in this field. Vascular surgeons are also reported to be in the highest paid bracket. However, you do need to weigh up the potential downsides too. For example, vascular surgeons can be required to work long hours. This can interfere with your ideal work and life balance.
So, if you want a career that pays well and provides long-term stability, training to become a vascular surgeon is a great choice.
How Much is a Vascular Surgeon Salary?
Several factors can determine the salary of a vascular surgeon. However, the common salary across the United States is up to $454,707 per year.
Below is a table to highlight how the average salary varies by state:
| State | Average Salary |
| --- | --- |
| Minnesota | $230,296 |
| Montana | $221,254 |
| Washington | $218,000 |
| Colorado | $213,642 |
| Arizona | $211,455 |
| Nevada | $208,101 |
| Virginia | $169,168 |
Click here to get the full list of average salary information for each state.
How to become a vascular surgeon?
You have several pathways you can choose to train as a vascular surgeon. After completing medical school, the common method is to enroll on a general surgery residency program. Let's look at the main steps you'll need to follow to become a vascular surgeon.
Gain a bachelor's degree

Attend medical school

Complete a residency program

Specialize in a field through a fellowship

Become board certified
Gaining a degree is the first step to becoming a vascular surgeon. The basic requirement is a bachelor's degree, though some medical schools will ask for a master's degree.
Prior to getting into medical school, you will need to sit for an MCAT exam. This assesses your critical thinking, problem solving, and your knowledge of scientific concepts. Be aware that getting into medical school can be difficult. It is highly competitive, so you will need to ensure you meet their requirements when you apply.
After completing 4 years of medical school, you'll go on to do a 5-year residency. This teaches you about general surgery. Like medical school, you'll train in rotations, gaining practical experience as well as studying.
Once you have completed your residency, if you want to specialize in a specific field, you can undergo a fellowship. This usually lasts for a couple of years, teaching you specialized knowledge in your chosen field.
When you have completed all your training, before you begin working as a vascular surgeon, you'll need to become board certified. That is the final step you'll need to undertake. 
Want to train to become a vascular surgeon? Find out more about our MD program now. You can find out everything you need to know about studying at MUA in our FAQs. While it takes a long time to become a vascular surgeon, it can be a stable and rewarding career choice.
Useful links
Get in touch for more information