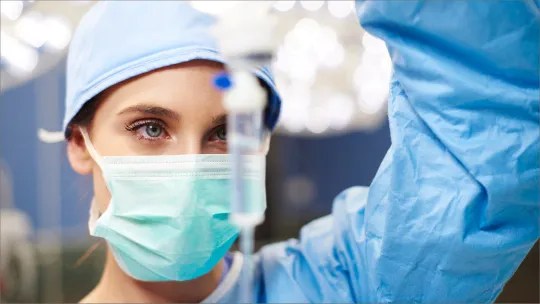 What is anesthesiology?
Discover the pivotal role anesthesiologists play, the skills involved, and the critical impact on medical procedures and patient comfort.
Interested to learn more about a career in anesthesiology? Each year in the United States over 100 million procedures are carried out. Approximately 90% of them are guided or provided by anesthesiologists.
While best known for providing anesthesia during surgery, the job role of an anesthesiologist extends beyond surgical duties. So, what is an anesthesiologist and what does the job role entail? Learn everything you need to know about this challenging yet rewarding career option by reading the information below.
What is anesthesiology?
Anesthesiology is a specialty within the medical sector. It focuses on critical care medicine, pain management, and anesthesia.
Those working within anesthesiology are known as anesthesiologists. Their primary role is to ensure the well-being and safety of patients throughout their surgical journey. This includes providing anesthesia before a procedure and helping to sustain critical functions during surgery.
Throughout their training, anesthesiologists develop specialized knowledge in areas such as pharmacodynamics and pharmacokinetics. They also need to learn about general areas of medicine such as physiological functioning and mechanical ventilation.
Some anesthesiologists choose to focus more on pain management. This involves treating patients with conditions such as headaches and diabetes. It also includes treating those experiencing pelvic or abdominal pain. Typical duties include prescribing medications, performing procedures to relieve the pain, and counselling the patient. Other anesthesiologists prefer to focus on critical care, or train in a more specialized area of the field.
As you can see, anesthesiology is so much more than assisting within an operating theatre. It has also come a long way since it was first introduced. It is terrifying to think that patients used to undergo procedures without any form of pain relief. Thanks to advancements over the past few decades, anesthesiology has become safer and more effective than ever before.
What is the history of anesthesia?
Anesthesia itself dates back to ancient times, where Opium was the drug of choice. However, the type we know and use today was first developed back in 1846 by William TG Morton, a Boston dentist. He wanted to come up with a better solution than nitrous oxide, which most dentists at the time were using. Working with John Warren, a renowned surgeon, he successfully used sulfuric ether on a patient to anesthetize him.
In 1847, James Y Simpson, a Scottish Obstetrician, was the first to use chloroform as a form of anesthesia. It started to be mass-produced in the 1850s and was commonly used during the Liebig procedure. Compared to ether, it resulted in fewer nasty side effects. This led to it becoming the most widely used anesthetic.
Today, anesthesiologists use more effective and safer alternatives to chloroform and ethers. Isoflurane and Sevoflurane are the most used. While the previously used drugs did carry a high level of risk, anesthesia today is much safer.
In the years 1999–2005, a study showed there were just 34 deaths caused by anesthesia each year in the United States. The elderly and male patients were most at risk, although the risks today are still very small. This is credited to the improvements within anesthesiology in recent years.
What are the different types of anesthesiology?
Like most fields of medicine, there are several types of anesthesiology you can specialize in. The main types to consider include:
Obstetric anesthesia

Cardiac anesthesia

Neuroanesthesia

Pediatric anesthesia
Obstetric anesthesiologists help to relieve pain during labor and provide anesthesia during Cesarean procedures. They are also trained to look after patients in intensive care, enabling them to assist in anything that goes wrong during labor or delivery.
Cardiac anesthesiologists help to administer pain relief and anesthesia during heart and vascular procedures. They determine which type of anesthesia will be used, address any problems likely to occur with heart surgery, and administer specialist cardiac medication. During surgery, they administer anesthetic and monitor the patient's vital signs. After the procedure, they monitor the patient's recovery from the anesthetic.
A neuroanesthesiologist assists with neurosurgical procedures. These include brain surgery, trauma repair, peripheral nerve surgery, and aneurism repair.
Pediatric anesthesiologists specialize in treating infants and children, with at least 1 year of specialized training in the field. They mostly deliver care within an operating theatre, though they also provide pain relief after the surgery.
It is a good idea to research the different types of anesthesiology in detail before deciding which field you want to specialize in.
How much do anesthesiologists make?
Anesthesiologists make on average between $261,000 to $282,000 per year in the United States. However, actual salaries will vary depending upon state, experience, and specialty. The states where anesthesiologists tend to earn the most money include:
| State | Average Salary per Year |
| --- | --- |
| Wyoming | $281,070 |
| Arizona | $280,030 |
| Oklahoma | $278,540 |
| New Mexico | $277,140 |
| Kansas | $276,800 |
The above should be viewed as a general guideline. Some anesthesiologist positions pay over $400,000 per year, while others pay closer to $150,000. The generous salary makes up for the extensive training anesthesiologists need to go through.
How to become an anesthesiologist?
The job role of an anesthesiologist is as challenging as it is rewarding. You will need to study and train for an average of 12–14 years before you become fully qualified. The basic steps to becoming an anesthesiologist include:
Getting a degree

Attending medical school

Completing a residency

Optional fellowship

Obtaining a license
The first step you'll need to take is to achieve a bachelor's degree. This is to help get you into medical school. Ideally, the degree should be medical-related, but there are no strict rules over what you should study.
Once you have achieved your bachelor's degree, you will need to attend medical school. Here, you will spend an additional four years studying. Be aware that medical schools have a highly competitive admissions process. Not every student will get in, so it helps to thoroughly understand the process before you apply.
Within the first two years of medical school, you'll learn about subjects such as biochemistry, pathology, microbiology, and medical ethics. In years 3 to 4, you will gain more practical experience within a medical facility.
Once you have completed medical school, you will go on to complete an additional 4-year residency within anesthesiology. This includes 3 years of education, and 1 year carrying out rotations.
After completing your residency, you will have the option to study for an additional two years under a fellowship. This is only required for those looking to specialize in a particular area of anesthesiology.
When your training is complete, you can't start practicing right away. You are going to need to obtain a license to work as an anesthesiologist within the United States. Certification can be obtained by the American Board of Anesthesiologists.  
These are the basic steps to follow, though you will need to check the requirements in your state. Different types of anesthesiologists also require different qualifications. Some may require you to achieve a master's, rather than a bachelor's degree for example. 
Anesthesiologists will always be in demand. This makes it an ideal career choice for those looking for a stable and rewarding career. If this sounds like the right job role for you, take a look at how to apply to our MD program. You can also contact us with any questions you may have prior to applying.
Useful links
Get in touch for more information