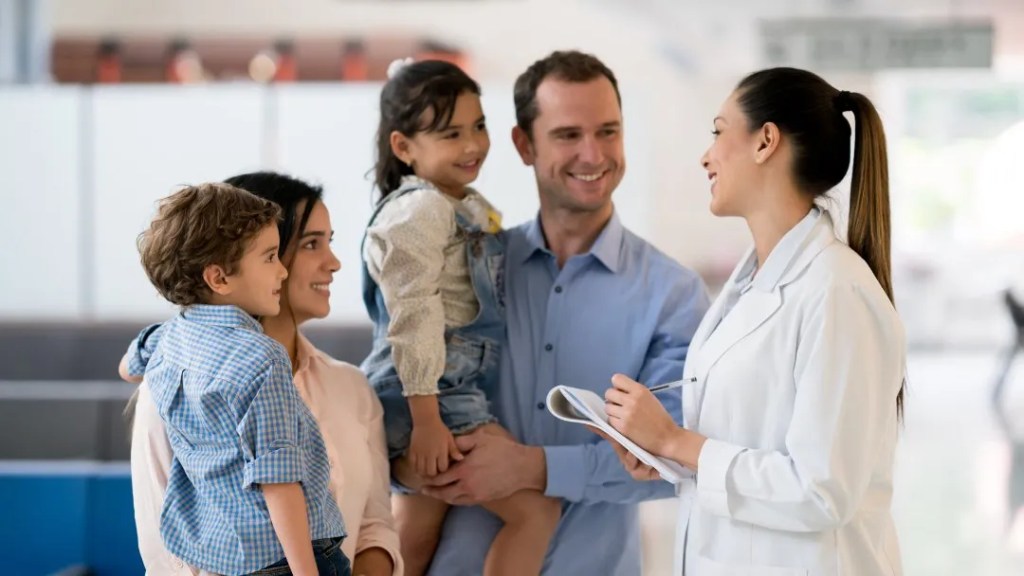 What is family medicine?
Unveil the breadth and depth of Family Medicine, its value in healthcare, and the role it plays in caring for individuals and communities.
Are you interested in being a physician who is qualified to treat almost any ailment for people of all ages? Then specializing in family medicine might be ideal for you. As a primary care profession, family medicine allows you to practice a wide range of medicine and  not be limited to a particular disease or organ.
From newborn babies to adolescents, adults to seniors — family medicine allows you to provide care for families and individuals across all age groups, genders, and illnesses. Read on to take a closer look at this specialty.
What is family medicine?
Family medicine is a part of primary health care that provides lasting and comprehensive care for individuals and families regardless of age, gender, disease, or part of the body. This specialty emphasizes the holistic nature of healthcare, together with its roots in the family. It is based on the expertise of the patient in the context of the family and the community, highlighting disease prevention and health promotion.
A family medicine doctor's scope of abilities embodies health promotion, disease prevention, ailment awareness, basic education, and information about preemptive healthcare measures. Along with diagnosing and curing illnesses, a family medicine physician can also perform routine patient check-ups such as full-body screenings, health-risk assessments, and in-person counseling on the importance and workings of a healthy lifestyle.
Family medicine physicians are often trained in the primary care of patients and, unlike single-organ-specialists, they are able to provide an entire, comprehensive overview of their patient's health and conditions. Family medicine physicians are able to do this because they receive training in all parts of the body.
What kind of care do family medicine physicians provide?
According to the American Academy of Family Physicians (AAFP), 82% of family medicine doctors perform simple, routine procedures such as laceration suturing, abscess draining, colonoscopies, removal of particles from the patient's skin and eyes, and joint injections. Other responsibilities of a family medicine doctor include:
Serving as the first contact for a patient and their various health concerns

Management and facilitation of acute and chronic care

Mental health management

Navigating the patient's overall health care including specialist referrals and hospital coordination with required follow-ups and counseling

Pediatric and geriatric care

Maternal care for women during pregnancy and recovery period

Management of heart disease, hypertension, diabetes, migraines, asthma, and other chronic illnesses

Building a long-term trusting relationship with the patient and their family
Family medicine doctors often work in private office settings or with a group of other family practice doctors. They may also work for community medicine clinics or in hospitals. Many family doctors provide care to underprivileged people in areas where there are limited resources and higher-than-average levels of illiteracy and poverty.
Family medicine doctor salary
Cities and countries around the world pay different salaries for family medicine physicians, and it is one of the most flexible and in-demand specialties of medicine to consider. The average family medicine salary for a doctor in the United States is $255,376 per year; however, this can vary by state, clinic, and depending on the physician's years of experience. The more years of experience a family medicine doctor has, the more likely they are to be paid a higher salary.
Some benefits that family medicine doctors can enjoy include:
Health insurance for themselves and their family

Paid time off

Visa sponsorship

Relocation assistance and housing allowance

Assistance for loans, licenses, and education
Family medicine physicians in Canada can most likely expect to be paid a similar salary to their counterparts in America. Research has shown that after taxes and expenses, Canadian family medicine salaries are approximately $225,000. About half of all the doctors in Canada are family medicine physicians compared to the U.S. where a third of doctors specialize in family medicine.
The below table shows the average salaries of family medicine physicians in some U.S. states:
| State | Average Annual Salary |
| --- | --- |
| New York | $237,888 |
| Massachusetts | $209,657 |
| Pennsylvania | $205,700 |
| Washington | $203,385 |
| Connecticut | $199,868 |
| Alaska | $194,180 |
| Ohio | $190,194 |
| Utah | $187,208 |
| California | $184,639 |
| Florida | $180,512 |
It is important to remember that salaries and averages change all the time depending on the job market, demand, and state of the economy at the time. Doctors and physicians are some of the highest earners across the world with steady job prospects due to the long-term nature of family medicine. Many families prefer to have the same physician care for them over generations.
How do you get into family medicine?
You will need to complete at least four years of medical school first. After they have gained an undergraduate degree, family medicine doctors study at accredited schools of medicine and pass exams from the United States Medical Licensing Examination (USMLE). You might also be expected to get certified by the American Board of Family Medicine (ABFM). These elements are all part of the course at the Medical University of the Americas (MUA).
Medical residencies for family medicine
Every year, graduates of MUA obtain ACGME-accredited residency appointments at renowned teaching hospitals and leading medical centers for family medicine. Some of these include:
Ellis Hospital, NY

McMaster University, ON

University of Illinois College of Medicine, IL

University of British Columbia, BC

University of Pittsburgh Medical Center, PA
Family medicine preparation at MUA
MUA offers an integrated, systems-based curriculum that prepares students well for the field of Family Medicine. With small class sizes and a focused emphasis on preparing students to be practicing clinicians,  many MUA graduates go on to family medicine residencies after graduation. 
Should you work in family medicine?
Not everyone is able to make a lucrative or fulfilling career out of family medicine, and this applies to any and every vocation. Those who do choose this line of work often find it extremely rewarding, and it might be the case for you — especially if you want to fill one of the most vital and highly demanding roles in healthcare. By pursuing a career in family medicine, you can expect to make a huge impact on people's lives and a difference to the community as well.
If you believe that being a family medicine doctor is your true calling, then nothing can stop you from working in this field. Consider pursuing family medicine if:
You have empathy:

Being able to put yourself in your patient's shoes (and those of their family's) is critical to being a successful family medicine doctor.

You enjoy changes to your daily routine:

As a family medicine physician, you can expect each day to be different due to the variety of medical cases and patients you'll get to see.

Your communication skills are excellent:

You will often be required to articulate and communicate complex illnesses and emotions to people of various backgrounds, ethnicities, ages and education levels.

You are adaptable:

One of the most important skills a good family medicine doctor should possess is the ability to be flexible and agile in times of crisis. You should be able to deal with challenges on the daily.
If this sounds like you, start your journey to becoming a family doctor by applying to study at the Medical University of the Americas, or read up about our MD program. This is your chance to be at the frontline of your community's healthcare.
Useful links
Get in touch for more information