Brian Chwiecko, MD
Internal Medicine Residency at Reading Hospital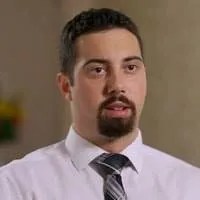 A Critical Care Patient Grows Up
Born with a life-threatening heart condition, Brian Chwiecko was a critical care patient before he even knew it. Being called to medicine was no surprise, but what kind of medicine would it be?
As an undergrad, he fell in love with microbiology and infectious diseases. ("Yes," he says, "I'm that kind of nerd."). Then cardiology ("I really liked acid base.") He considered, then rejected, thoughts of a career in surgery? "Intense, but not complicated enough." Ob-Gyn? "The excitement is really addicting but…"
At MUA he was a standout student, scoring in the top 2.5% on the USMLE. It was during his MUA clinical rotations in Louisiana that he found his calling, in effect pulled back to his infancy in critical care: he was born with a condition known as transposition of the great arteries, underwent heart surgery at seven days old and has checked in with a cardiologist every year of his life.
"On my clinicals I saw just an absolutely outrageous amount of pathology. A lot of cardiology, renal, and infectious disease. I had a patient with cholera. It was amazing. I loved it."
A 2015 MUA grad, Brian is now a resident in in his hometown of Reading, PA, in Reading Hospital's three-year internal medicine program, his No. 1 choice, heading for a fellowship in…what else would you expect?: pulmonology and critical care.