Colleen Pietras, MD
Cardiovascular Surgery Fellow and an Instructor in Surgery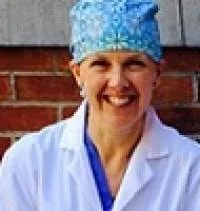 An early interest in medicine that turned into a four decades-long, self-directed pursuit has taken Colleen Pietras through academic and work experiences across the US and now, with an MD from Medical University of the Americas (MUA), to an advanced fellowship in Cardiovascular Surgery at the Mayo Clinic.
Colleen set out on a traditional academic course, completing a Bachelor's degree in Biology/pre-med from Russell Sage College in upstate New York and a Master's degree in Physiology from Boston University. But before heading to medical school, she took a leave of absence from the educational world, moving out west to work as a professional ski instructor and a trauma technician in an emergency department in Colorado. It was during this time that she developed interests in Cardiopulmonary Medicine and Cardiac Surgical specialties. Applying back to medical school after a ten year leave of absence was a challenge. In the midst of retaking her MCAT and working on a PhD in Denver, Colorado, a family friend was living in Nevis and spoke about MUA and the opportunities there. "I was very motivated to get back on a professional track in order to complete my medical degree.  I had been out of a formal classroom for so long that I was searching for personalization and small class sizes. The opportunity to begin the semester in January all the while experiencing a unique and quiet environment to learn seemed ideal to me. I had become an adventurer in a lot of ways and found testing my limits part of the challenge."
Colleen matriculated at MUA in January 2004 and lived on Nevis until August of 2005. "I now know that there are many medical schools in the Caribbean. I was told, as with any risk, it would be what I made of it. The professors were well-educated and enthusiastic. Many were taking a sabbatical from medical schools in the U.S., so the quality was undeniable. During my time there, I was fortunate to have a solid and supportive group of educators. The island was serine and beautiful. Nevisians are warm and genuine. Once they befriend you, they take you in and make you family. Their generosity was often unfathomable."After leaving Nevis in 2005 and sitting for Step I of the USMLE, Colleen completed her medical school rotations in Cleveland, Chicago, Fort Collins, Colorado, and Baltimore, Maryland. Upon graduating from MUA in 2008, she began a General Surgery residency at Waterbury Hospital in Waterbury, Connecticut.  This is a university-affiliated program which allowed her to rotate through Hartford Hospital, Yale-New Haven Hospital and Memorial Sloan Kettering Cancer Center in NYC. During her five years as a General Surgery resident, she recalls her time in Nevis as a motivating factor to become part of a surgical mission trip to JFK Hospital in Monrovia, Liberia. She is an active member of the American College of Surgeons, the Society of American GI and Endoscopic Surgeons, and the Society of Thoracic Surgery. She cultivated an appreciation for heart surgery while doing her clinicals in Cleveland, and was able to establish mentors in Connecticut who supported her advancement into the field of Cardiothoracic Surgery. In 2013, she began a Cardiothoracic residency at Penn State Milton Hershey Medical Center, in Hershey, Pennsylvania, where her interests expanded to include complex Cardiovascular Surgery and Heart Transplantation.  Following her chief year in 2015, she was accepted into the prestigious Mayo Clinic, in Rochester, Minnesota, as an advanced Cardiovascular Surgery Fellow and is now an Instructor in Surgery.  
Colleen has recently been published in the Annals of Thoracic Surgery and was part of a collaborative book chapter about End-Stage Heart Failure and Mechanical Circulatory Support. She is a reviewer for the Journal of Heart and Lung Transplantation and the American Society for Artificial Internal Organs. Currently interviewing for a final year in training in Mechanical Circulatory Support and Heart and Lung Transplantation, Colleen plans to pursue an academic position as a Cardiac Surgeon. "I am grateful every day for the opportunities I have been given, for the privilege to learn from the most brilliant and talented surgeons in the world, and to my patients.  Their trust in our dedication and determination to improve their lives has made all the sacrifice worthwhile. MUA was the stepping stone for me and it holds a special place in my heart as a result."