Habib A. Nazir, MD
Internal Medicine Residency at Newark Beth Israel Medical Center, RWJBarnabas Health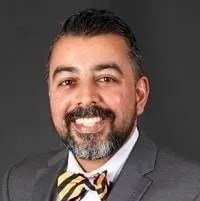 Doctors often liken the day-to-day life in a hospital as one of "putting out fires." For Dr. Habib A. Nazir, this is literally true: he's a Pulmonary and Critical Care Fellow at Newark Beth Israel Medical Center and also the medical director of fire services in Morganville, New Jersey.
Firefighting is not new to Habib: he was a firefighter and first responder before he matriculated at Medical University of the Americas in 2007, first in pre-med and then on to the MD program where he received his degree in 2013.
When asked about the highlight of his medical studies at MUA he doesn't hesitate—it was the close engagement with his MUA professors. "A student's ability to interact and have access to the professors at MUA is amazing. The professors took a personal interest in helping us develop as medical professionals. Our success was their priority. I am still in touch with my teachers there."
Habib completed a three-year residency in Internal Medicine at Newark Beth Israel Medical Center in Newark, New Jersey and is currently completing a three-year Fellowship in Pulmonary and Critical Care Medicine there.
In addition to being the medical director of fire services in Fire District #2, Morganville, New Jersey, Habib is also part of the Office of Emergency Management in Marlboro, New Jersey where he helps develop policies and procedures for local emergency service agencies.
He plans to work as an intensivist and possibly pursue a sub-specialty training in Disaster Medicine.