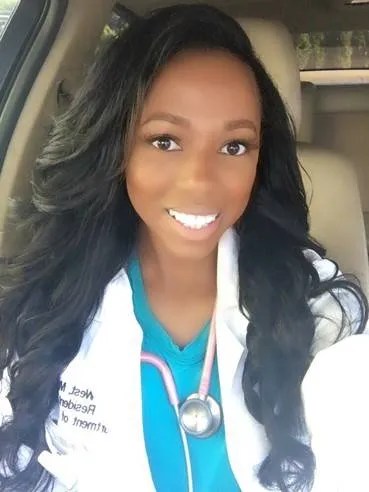 Michele West graduated Summa Cum Laude from SUNY Farmingdale with a degree in Molecular Pathology,  went on to obtain a MPH degree, and then worked as a Professor at Concorde Career College teaching Anatomy, Physiology and Microbiology before coming to MUA for her medical degree. She loved the opportunity to go overseas for medical school and  really enjoyed the basic sciences education. Says Michele, "I loved it academically and am so appreciative of the education that I received. The professors are all very enthused about the area that they are teaching, and I felt so well prepared for the Step exams".  
Actively involved in the school as a TA for Physiology, Biochemistry, Genetics and Microbiology, she managed to complete her degree with High Honors, receiving the Dean's Award for highest GPA in basic medical sciences (3.95), and the ASCP Academic and Leadership Excellence Award. She was also inducted into the Golden Key International Honors Society. Notably, her passion for research shone through on her MUA RLRA (Research: Literature and Review Analysis) paper, titled "A Hypothesis-Driven review: Comparison of allogeneic stem cell transplant conditioning regimens in acute myeloid leukemia," which was subsequently chosen for publication.
Since graduation from MUA, she has immersed herself in a variety of rigorous research projects, one at Emory University in the field of plasma cell dyscrasias, earning her way into several publications in the area of Hematology Oncology. 
She is currently embarking on a new career path as a Resident Physician in Pathology, at the University of Minnesota, with aspirations in Hematopathology and Molecular Genetics Pathology. She is an active member of American College of Physicians, American Society of Clinical Pathology, and United States & Canadian Academy of Pathology.