Samantha Agar
Family Medicine Residency at Southern Illinois University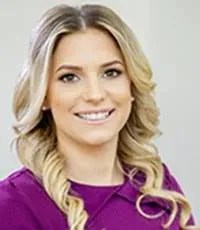 Samantha Agar practiced as a registered nurse both in labor and delivery and the neonatal intensive care unit at a hospital in Mississauga, Ontario after earning her Bachelor of Science in Nursing. As an undergraduate student at McMaster University School of Nursing, she was a standout student and received an award for Outstanding Academic Achievement.
Going to medical school was never far from her mind though. "I worked with a resident at my hospital who had told me about how she attended medical school in the Caribbean. I didn't really know much about Caribbean medical schools. She had gone to MUA and highly recommended it." Samantha applied and was accepted into the Gateway Program at MUA. "It was an awesome program and a good way to review everything that I had learned a while back. The program really helps prepare you for the first semester of medical school."
Embracing both fellow students and those living on the island, Samantha became actively involved in the school, and in the community on Nevis. "There were students from all around the world and the diversity was great and so positive. "In addition to forging bonds with her fellow students, she was awarded the prestigious "Premier of Nevis" award on the island for her exceptional volunteer work and involvement with the local community. "I got to know a woman who was a breast cancer survivor there, and she had started the "Pink Lilly Program" to help educate others about the topic of breast cancer, screening and provide resources to those in need . I worked with her throughout my time on the island to help promote her vision, it was inspiring."
After leaving Nevis for her clinical rotations, Samantha chose to do her cores at different hospitals to get exposure to different health care systems. "I feel that you really take away something from each place you rotate and it's a really good learning experience, it helps mold you into a better physician". Upon her graduation from MUA, Samantha received the Dean of Clinical Medicine award in recognition of her outstanding performance and academic excellence in the clinical medicine program.
Not surprisingly, when it came to residency Samantha had many interviews. She matched into her first choice…a Family Medicine residency at Southern Illinois University in Decatur, Illinois. It is a three year program, after which she may go back to her roots in OB and practice full spectrum Family Medicine. "I am missing those sunny days on Nevis. My advice to students who come to MUA is to get involved as much as possible, you will meet some amazing people and get to be a part of a tight knit community and family that you will never forget. Nevis is a beautiful island that is home to some of the most beautiful and friendly people. I couldn't ask for a better place to study medicine and start my career as a physician".