Sepehr Karimi, M.D.
General Surgery Residency at Waterbury Hospital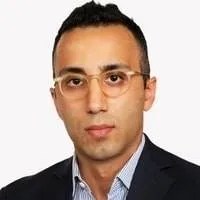 When not scrubbing into OR cases at the hospital, MUA 2017 graduate Sep Karimi likes to read biographies to "broaden his vision on humanity", and watch films that "portray the essence of the human connection". A deep interest in the personal condition, and a person's physical wellbeing underlies his life's work, both as a kinesiology undergrad at York University in Toronto and now as a PGY-1 General Surgery resident at Waterbury Hospital in Ct.
Upon graduation from York University, Sepehr chose to enroll in the Gateway Program at MUA to complete his science requirements, missing the necessary organic chemistry and recommended english requirements for Med 1. "I loved the Gateway Program. It really helped me transition to the MD Program seamlessly. We played soccer and tennis; we had study groups and I learned so much. We were so close to the Dean at MUA who really helped guide us. All the resources were there for you. It was so great".
When I did my surgery rotation at Chabert Medical Center I fell in love with it, so from there I picked my electives wisely. I picked out places where I could potentially match, doing an infectious disease rotation, a cardiology rotation and a vascular surgery rotation at three different hospitals. I got several letters of recommendation, and then came to a general surgery rotation at Waterbury." Sepehr knew this was his big chance to make an impression and have the chance for a general surgery match, and he put his all in it. A general surgery match is a difficult feat for any medical student, so impressing the attending physicians and others is paramount. "I had 6 weeks to shine and impress these guys, and show them that I really wanted to be here. I showed them I was interested, and after six weeks I was already going to Christmas parties with the team!"
Sepehr's hard work payed off and he matched into his number one spot, as a categorical general surgery resident at Waterbury Hospital. He operates frequently at Hartford Hospital, the biggest trauma center in New England. "My goal is to do cancer surgery, perhaps of the colon and pancreas. There are so many advances now, with minimally invasive and intraabdominal cancer surgeries."