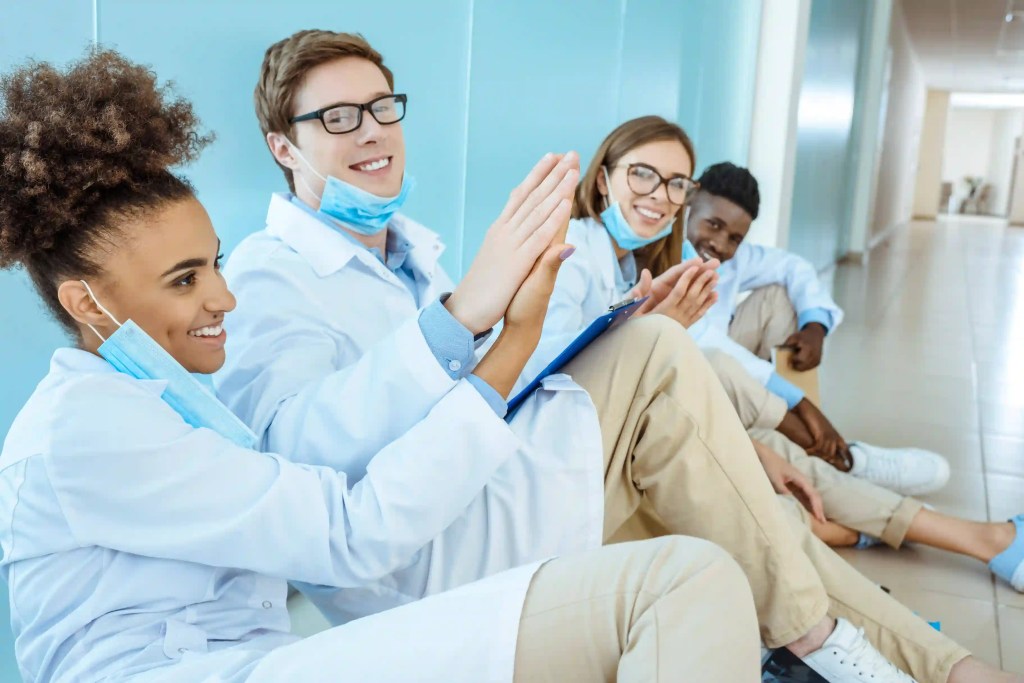 Everything you need to know about Match Day
Discover the pivotal role of Match Day in a medical student's journey and the significance of this day in determining a future physician's career path.
Medical students put in an enormous amount of work at medical school as part of their journey to applying for a residency. Residency placements are decided during the match process on what is referred to as 'Match Day' in mid-March, and marks an important point in the journey of every medical student. 
In simple terms, the match is a system through which medical students get placed into a residency program. A minimum of one year of postgraduate residency training is necessary to obtain a medical license. 
Students who are studying to become physicians must understand the importance of the match, and should be fully prepared for it. As every medical student eagerly anticipates Match Day, we've outlined everything you need to know about it. 
What is Match Day?
The Match Day is well known in the graduate medical education community and denotes the day on which the National Resident Matching Program (NRMP) releases the eagerly awaited results of all the applicants who have applied for residency or fellowship training positions in the U.S. 
The Match ensures a uniform process through which residency programs are matched with residency candidates to fill first-year and second-year post-graduate training positions. While the Match system is governed by NRMP, the training positions are accredited by the Accreditation Council for Graduate Medical Education (ACGME). 
How do I Match into a Residency Program?
To match into a residency program, you have to start early by building a strong academic and professional portfolio. Exemplary performance in medical school heightens your chances of getting a residency program of your choice.  
An important step is researching residency programs offered in the medical speciality that you have chosen. To apply for the program of your choice, you have to use Electronic Residency Application Service (ERAS) which streamlines applications for the U.S. fellowship process. 
Some of the important documents that you need to submit with the application are:  
Application or curriculum vitae (CV)

Letters of recommendation

Personal statement

Medical school transcripts

Medical Student Performance Evaluation (MSPE)

Licensing exam transcript 
 According to the AAMC, residents put themselves in the best position to obtain a residency position by:
Understanding the wide range of specialty and practice options available to physicians

Gauging their competitiveness and candidacy

Determining which specialty or specialties are right for them

Researching residency programs in their preferred specialty or specialties

Determining how many and which residency programs to apply to

Creating an effective residency application and preparing for interviews 
The journey towards landing the right residency program for you begins with a good medical school. If you are looking to make the perfect start then you should consider the Medical University of the Americas. MUA is a leader among international medical schools and offers an excellent curriculum that parallels that taught at the top US medical schools.  
With a smaller class size and emphasis on one-on-one instruction, the school enjoys a USMLE Step One first time pass rate of 95% (avg of 2015-2019). In addition, MUA has an 88% residency attainment rate (since 2001). Many MUA graduates have landed successful residencies in the U.S. and Canada and are doing remarkably well in their career. 
If you are interested in being part of the Caribbean medical school and want to give your career the right boost then check out MUA's admission requirements. Also, check out the MD program and personal testimonials of graduates. Click on the shared links for more! 
Getting the right "Match' 
Match Day has always been an important and rather intimidating day for medical students. Securing a residency position is pivotal in securing one's future career and can be a deciding factor in getting a medical license. 
There are some essential dos and don'ts to this process which include staying calm and focusing on your goals as well as taking plenty of time to write a strong personal statement. It's also important to get strong letters of recommendations, create a well-rounded residency program list and don't skip any interviews you are offered.
Perhaps most importantly, begin early by matriculating at a medical school that can help you best prepare for this day. The Medical University of the Americas, for example, has an  88% residency attainment rate since 2001, with graduates securing residency positions in programs throughout the U.S. and Canada. 
MUA graduates like Dr Adnan Qureshi who is a senior resident at the Division of General Surgery at the University of Toronto credits his time at the medical school for building his foundation for residency. 
According to Dr. Qureshi, the MUA anatomy lab gave students the ability to work directly on the human body. In addition, he was allowed to assist in operations in his clinical rotations. This experience at MUA, a leading Caribbean School of Medicine, helped him secure his dream job.
Dr Qureshi also praised MUA's curriculum and teaching methods, saying: "MUA's system-based approach is key to recalling information in a meaningful clinical way".
At Medical University of the Americas, over 1,600 graduates have attained residency matches. The university also leads in the USMLE Step 1 exam with an outstanding first-time pass rate of 98%. Check out our 2022 MUA graduates' residency placements.
Useful links
Get in touch for more information