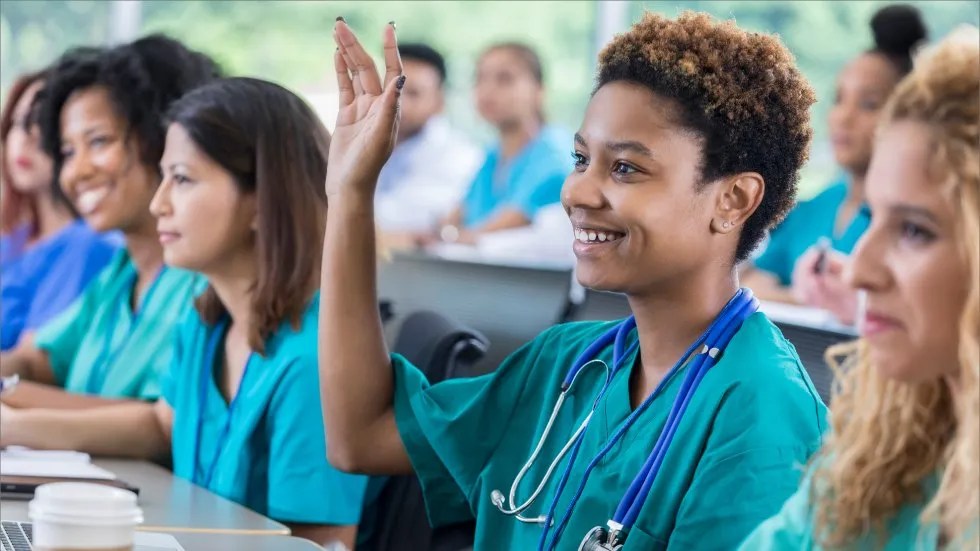 MUA's guide to applying to medical school
Applying to medical school? Read our guide to help you with the application process.
So, your mind is set, you want to train to be a doctor. But what are the first steps? It can be tricky to know where to start your journey without someone to lead you. That's why we've put together this handy guide to help you navigate your way and take some of the stress out of applying to medical school.
If you're looking for a place to begin your application process, why not join the MUA family? MUA offers an exceedingly high first-time pass rate on the USMLE Step 1 exam, a first-class curriculum, and small class sizes for quality teaching in a peaceful setting on the island of Nevis. Find out more about our application process, and learn: how to apply.
What is the process of applying to medical school?
Understanding the application process of medical school is vital if you want to make sure your application is successful. While every school will have its own procedures and steps to follow, there is a general order to the process. Let's start with the first step, the application forms.
To apply to most medical schools in the United States, you will need to use the AAMC's centralized application processing service, the American Medical College Application Service (AMCAS).
This service collects, verifies, and delivers application information and MCAT exam scores to each medical school you choose. However, it's important to understand that AMCAS does not make admissions decisions. Each participating school that you apply to is responsible for making its own individual admissions decisions.
Applying to MUA is a simple process, and it starts with filling in an application form, which can be found on our website here: Complete the online application form. You will also be asked to submit some documents to support your application. Please visit our page for a full list of what to submit.
How much does it cost?
For each medical school that you apply to, you will need to pay a fee to process the application. Fees vary from year to year. There is financial help available to potential students who need it. Applicants in need of financial aid may apply to AAMC's Fee Assistance Program. Visit the website for more information on what is available and the current fees.
What happens after I submit my application form?
This depends on the medical school that you have applied to. Sometimes you will be asked to submit a secondary application. This application is your chance to explain why you chose the medical school. It will also be used to assess how well you will fit into the culture. You'll usually be expected to explain the following: why you're interested in that particular institution; how your goals, experiences, and plans align with their mission and goals; and how you would contribute and develop as a learner at that institution.
You may also be required to attend an interview. These will be conducted by one or more admissions committee members or by off-campus interviewers, such as practicing physicians. These interviews are similar to secondary applications; they exist to assess your suitability for both the course you have chosen and also the institution.
How many medical schools should I apply to?
There is no ideal number for how many medical schools you should apply to. According to the AAMC, in 2019 the average applicant applied to 16 different institutions.
At MUA, we believe in quality over quantity. When deciding where to apply, focus on medical school acceptance rates, each school's individual admissions statistics, mission statement, curriculum, and student support. Choose the medical schools that seem like they will be a good fit for you. We recommend applying to at least 8–10 schools where you are confident that you have a realistic chance of acceptance.
Our belief in quality over quantity means we choose to focus on delivering quality teaching to smaller class sizes. MUA's educational philosophy believes that small class sizes — with significant student-teacher interaction — are fundamental to the student experience.
When do I need to apply to medical school?
The AMCAS application usually opens during the first week of May each year for the following year's medical class. This means you will begin the application process in spring in order to begin medical school in the fall of the following year.
For specific application dates and deadlines, visit the Medical School Admission Requirements, the AMCAS website, and the websites of your potential medical schools.
MUA operates on a year-round, 3-semester schedule, and new students can choose to begin their medical studies at any of 3 times during the year: September, January, or May. For that reason, we accept applications throughout the year. The 3-semester schedule not only makes it more convenient to get started it also allows you to complete your studies more quickly.
Medical school requirements
Each medical school has different requirements for admission. The best way to check these is to visit the Medical School Admission Requirements page on AAMC. The general medical school requirements for the US are as follows:
High school diploma

Undergraduate degree in the field of Sciences (3–4 years)

Minimum undergraduate GPA of 3.0

Good TOEFL language scores

Letters of recommendation

Extracurricular activities

Minimum MCAT exam result (set by each university individually)
Some U.S. medical schools have additional requirements such as:
College Biology with laboratory, one year

General college Chemistry with laboratory, one year

Biology, Chemistry — minimum of 24 semester hours in areas of Humanities

Mathematics (Calculus and/or Statistics, one year (6–8 semester hours)

General college Physics with laboratory, one year (8 semester hours)
MUA encourages applications from individuals who hold advanced, graduate, or doctoral degrees in the basic science areas. However, each applicant will be evaluated on an individual basis as MUA accepts students from a wide range of educational and geographic backgrounds, with the belief that such a diverse student body can only enrich the overall educational experience.
Find out more about our application requirements and also our Pre-medical Program, designed to help students with diverse backgrounds move their focus to medicine.
How do I choose the right medical school for me?
Deciding which medical schools to apply to is a personal decision that should be based on your own goals and interests and the quality of each institution.
The most important thing to consider is whether your chosen university is accredited. Accreditation is a stamp of approval awarded to a college or university for meeting basic educational standards. To ensure a successful medical career, you should always ensure the institution you're applying to is accredited.
Medical schools are as diverse as the students applying, and each will have its own strengths, application requirements, and methods of delivering teaching.
Consider your options carefully and choose schools that fit your style of learning. Focus on the school's academic approach, student services, campus, location, and general environment. You should also consider the culture of the medical school.
You want to choose a place where you feel happy and comfortable. The truth is that studying medicine can be tough, so you want to choose an institution in which you can settle and build a support network around you.
Dr. Eduardo Hariton, a graduate of Harvard Medical School and Harvard Business School, believes, "It is important to be at a place where you feel at home, where you feel welcome. Unlike college courses, med school classes require learning how to care for human beings, and that can be a highly emotional and stressful experience. So prospective medical students should look for schools where they feel like they belong."
MUA prides itself both on curriculum and culture. Our university's philosophy of education suggests students are best taught medicine in small classes, with one-on-one instruction, and with a commitment to providing an education on par with U.S. and Canadian medical schools. MUA is a proudly accredited university.
MUA also provides diverse learning opportunities, including interactive lectures, team-based learning, hands-on training and simulations with standardized patients. On top of that, we're set within a wonderfully modern campus on the island of Nevis.
Need more reasons to come and join our MD program? Find out why studying on Nevis could be for you and then reach out for a quick chat about how you can apply to our MD program.
Useful links
Get in touch for more information