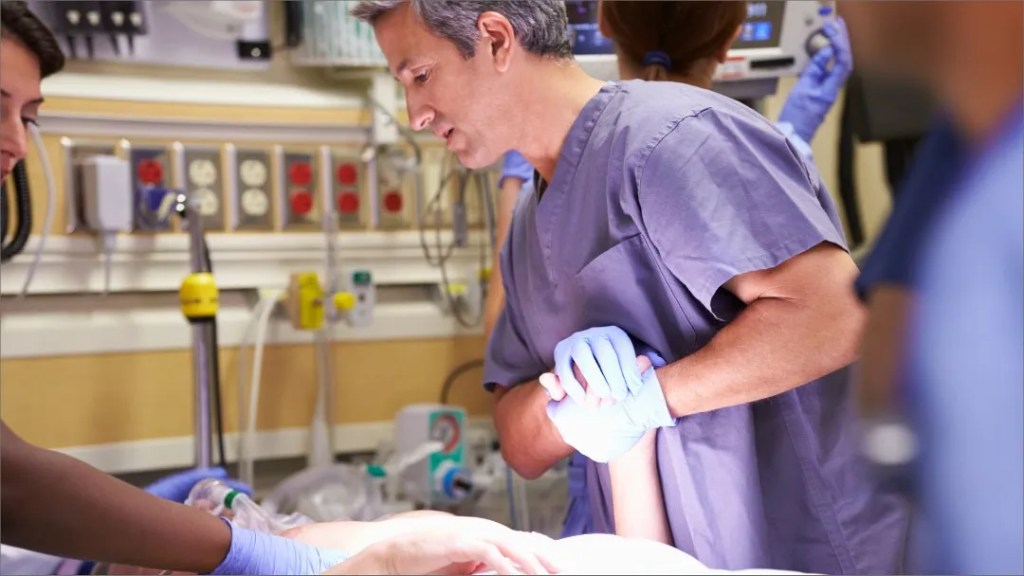 How to become an ER doctor
Discover the essential steps and key insights on becoming an Emergency Room (ER) doctor in our comprehensive guide.
Emergency medicine doctors are probably one of the best known specialist roles and as such, is one of the more in demand positions in medicine. This fast-paced job often requires quick decision making in life or death situations. It's vital for potential ER doctors to be calm under pressure, have strong diagnostic skills and adaptability. While it's a demanding and often challenging job, for the right person it's immensely rewarding.
Read on to take a closer look at this specialty and find out if it's right for you.
What is an ER doctor?
An emergency medicine physician, also known as an ER doctor, works primarily in the emergency department within a hospital, stabilizing and treating patients with acute health problems or traumatic injury. ER doctors are also responsible for providing advice about further care and advancing treatment by recommending a course of action if an emergency medicine patient needs to be admitted to the hospital.
What does an emergency physician do?
ER doctors assess and treat patients in the emergency department. Regardless of the illness or injury type, emergency medicine physicians are the first line of treatment in the case of acute illness or injury. The main focus of an emergency department doctor is to quickly stabilize patients and ascertain the next best step for treatment.
It's a fast-paced and ever-changing work landscape, with ER physicians treating various injuries and illnesses from patients of all walks of life, from children to geriatrics.
ER doctors will see a range of diseases and conditions, all with different severity. The only common factor is that the injury or illness has become acute enough to seek urgent medical treatment.
This means that ER doctors are often responsible for treating patients with severe trauma, those suffering from symptoms of conditions such as stroke or a heart attack, and unconscious patients. Quick diagnosis and swift treatment is a vital skill for any emergency medicine doctor.
Adaptability is also key as emergency medicine physicians usually deal with multiple patients at once. ER doctors are expected to quickly triage patients as they arrive according to their symptoms, with life-threatening conditions taking top priority.
Emergency medicine doctors tasks often include:
Patient consultation

Physical examinations

Blood tests including CBC (complete blood count) and arterial blood gas (ABS)

Urinalysis

EKG

Imaging tests like X-rays and ultrasounds
How long does it take to become an ER doctor?
Becoming an emergency medicine doctor is a long and challenging path. Prospective ER physicians typically train for 11–12 years, more if they decide to specialize.
Earn a bachelor's degree
Aspiring ER doctors must first complete a 4-year bachelor's degree program before moving on to medical school. Some major medical schools, including MUA, offer a  pre-medical program. However, a pre-med program is not necessarily required to enter medical school. Bachelor's degrees that emphasize science, such as biology, physics or physiology are also accepted at some universities.
To find out more about MUA's admission requirements, visit our website to take your first steps on your medical career path.
Take the Medical College Admission Test (MCAT)
The Medical College Admission Test, or MCAT is a 7.5 hour multiple-choice, computer-based, standardized exam. This exam tests takers on their general chemistry, organic chemistry, general biology, biochemistry, physics, psychology, and sociology skills, as well as critical analysis and reasoning skills.
Taking the MCAT is required for all applicants who are U.S. citizens, nationals, or permanent residents.
In 2021, the average MCAT for students accepted to medical schools in the US in 2020-2021 was 511.5. The highest score possible is 528 with scores below 507 classed as low and not competitive for medical school admission. A score of 518+ is considered exceptional.
Earn a medical degree
Applying to medical school and earning your medical degree is the next step. Medical school consists of 4 years of both basic science coursework and clinical rotations providing hands-on experience in real healthcare settings. Generally, the first 2 years are dedicated to classroom study before students move on to treat patients.
If you'd like more in-depth information on medical school, such as how to apply or how to choose the right school for you, then take a look at MUA's guide to applying to medical school.
Pass the United States Medical Licensing Exam (USMLE)
Any physician wishing to work in the U.S. is required to pass a national, standardized exam. USMLE requirements will vary according to the state you are in, so find out the specific requirements from your state's medical board.
Complete a residency program
The final step to earning your Emergency Medicine Certification is to complete a 3–4 year residency.
A medical residency is the period of training that you undertake after completing your studies at medical school. MD residency takes place in a working hospital or a clinic and provides in-depth, hands-on training within a specialized field of medicine.
The first year of residency, known as an internship, is spent either rotating through different specialties or rotating to different areas within one single specialty. This rotation allows MDs to find a role that they want to specialize in for the remainder of their residency and onwards into a career.
To learn more about medical residency visit MUA's guide, what is a medical residency program and what to expect?
Earn an Emergency Medicine Certification
Board certification is obtained by successfully completing both a written and an oral examination following a completed residency.
What are the subspecialties of emergency medicine?
ER doctors may wish to further specialize during their careers. The American Board of Emergency Medicine lists the following paths for subspecialization:
Anesthesiology Critical Care Medicine

Emergency Medical Services

Hospice and Palliative Medicine

Internal Medicine-Critical Care Medicine

Medical Toxicology

Neurocritical Care

Pain Medicine

Pediatric Emergency Medicine

Sports Medicine

Undersea and Hyperbaric Medicine
How much do emergency room doctors make?
The salary for an ER doctor will vary depending on city, state and country as well as on experience. The average emergency medicine doctor salary in the United States is $295,180.
The below table shows the average salaries of emergency room doctors in some US states:
| State | Average Annual Salary |
| --- | --- |
| New York | $288,727 |
| Massachusetts | $270,414 |
| Pennsylvania | $257,094 |
| Washington | $262,422 |
| Connecticut | $276,189 |
| Florida | $233,648 |
| Texas | $236,046 |
| Utah | $228,080 |
| California | $271,442 |
| Alaska | $264,558 |
It's vital to remember that salaries and averages can fluctuate depending on the job market, demand and the state of the economy.
Is a career in emergency medicine good for you?
Emergency medicine can be a highly challenging job so a strong resolve is important, as well as the ability to keep a cool head and make tough decisions, even in pressured situations.
It's also vital for ER doctors to be adaptable, as you will treat a wide range of illnesses and injuries across all members of the human race, often juggling multiple patients and tasks at the same time. ER physicians have strong diagnostic skills, deal with challenging situations and possess the ability to think on their feet.
Emergency medicine is one of the most fulfilling medical career paths, and for the right person is a highly rewarding job. When it comes to choosing a subspecialty you should consider your suitability for the role alongside which areas of medicine you enjoy and which aspects of the job you like the most.
Choosing a subspecialty in an area that you're passionate about ensures long-term job satisfaction and the opportunity for learning more. If you're ready to move forward and take the first steps in your ER doctor career then apply to our MD program today.
If you're still not sure which specialization is for you, then why not reach out to us with any questions you may have? We would love to help guide you onto your perfect career path.
Useful links
Get in touch for more information