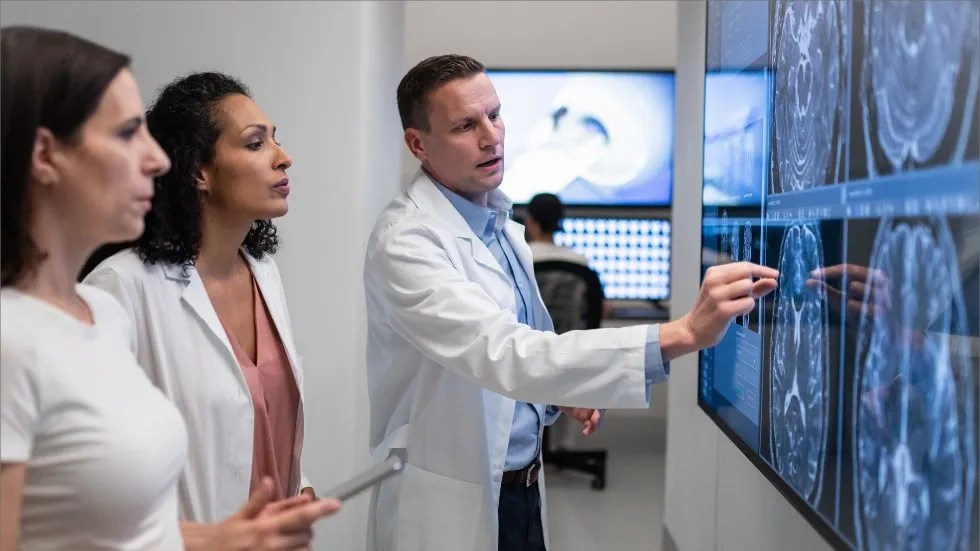 Who is a neurologist?
Neurologists are medical professionals who specialize in treating conditions of the nervous system.
There are a lot of specialties you can choose when you're looking to join the medical sector. Neurology is a popular field, focusing on diagnosing and treating conditions of the nervous system. As a neurologist, you'll treat a diverse range of conditions relating to the peripheral and central nervous system.
However, before you decide whether neurology is the right career choice, you'll want to understand everything it entails. So, what is a neurologist and what do they do? Look at the information below to learn the key facts you need to know.
Who is a neurologist?
A neurologist is a medical professional, specializing in the treatment and management of neurological disorders. They are responsible for treating conditions related to the brain, nerves, and spine.
It is easy to confuse neurologists with neurosurgeons. However, neurologists do not carry out any form of surgery. Where surgery might be required, patients will be referred to a specialist neurosurgeon.
There are different types of neurologists, allowing you to specialize in a variety of fields. The subspecialty you choose will determine the types of conditions and illnesses you treat.
What does a neurologist do?
Neurologists treat and manage a wide range of disorders and ailments of the nervous system. Just some of the conditions they help with include:
Epilepsy

Meningitis

Sensory impairment

Disorders of the spinal cord

Alzheimer's Disease

Severe headaches
Those looking to get into the field can either carry out a general role or specialize in a particular field. For example, some neurologists specialize in neuromuscular medicine, while others focus on child neurology.
The US National Library of Medicine states there are over 600 different types of neurologic diseases. This gives you a lot of opportunity to branch out in accordance with your interests.
What are some typical neurological procedures?
Neurologists carry out a variety of procedures to help diagnose and treat disorders of the nervous system. Some of the main tests and procedures they conduct include:
Electromyography – An Electromyography, or EMG, is used to determine how the muscles respond when motor neurons are electrically stimulated. Small electrodes, or needles, are inserted into the muscle to monitor electrical activity. They send their findings to an EMG machine, which creates an Electromyogram. This can then be used by the neurologist to diagnose various diseases such as ALS.
Lumbar Puncture – Lumbar punctures are used to collect spinal fluid to diagnose conditions such as meningitis and leukemia. They can also be used to deliver treatment to the spinal cord. Also known as a spinal tap, the procedure involves inserting a large needle into the lumbar area of the spinal canal. Occasionally, it may also be used to inject a dye that makes it easier to identify the spinal cord on an X-ray.
Electroencephalogram – An Electroencephalogram, or EEG, works in much the same way as an EMG. Electrodes are placed onto the patient's head to record and measure electrical activity within the brain. The results are sent to a computer, helping the neurologist diagnose conditions such as epilepsy, brain tumors, and seizures.
These are some of the main types of tests that neurologists carry out on patients. They also perform laboratory tests, biopsies, imaging tests, and genetic testing.
What is a chiropractic neurologist?
A chiropractic neurologist is a specialist within the field. They have trained for at least 3 years in neurology and hold a chiropractor license. There are very few board-certified chiropractor neurologists in the world. Therefore, those specializing in this field will have no problem finding work.
The treatments chiropractic neurologists carry out do not involve surgery or drugs. They help to manage and treat many conditions including:
Multiple Sclerosis

Parkinson's Disease

Restless Leg Syndrome

ADHD

Neuropathy

Stroke
Some of the treatment options they provide include cognitive exercises, stimulation of the sensory system, and chiropractic adjustments.
What are the different types of neurologists?
If you choose to get into neurology, you can specialize in a number of different areas. As the nervous system is complex, it can be broken down into a wide range of subspecialties. These include, but aren't limited to:
Neuromuscular medicine
Neurologists who specialize in neuromuscular medicine treat a variety of neuromuscular conditions. These include problems with the nerve roots, neuromuscular junction, motor neurons, and peripheral nerves.
If you choose this field, you will develop specialized knowledge of the diagnosis, pathology, and treatment of neuromuscular disorders.
Pediatric neurology
Pediatric neurology focuses on the diagnosis and treatment of neurological conditions in infants and children. As a pediatric neurologist, you will often work alongside other primary doctors such as speech or physical therapists.
Common conditions that pediatric neurologists treat include muscular dystrophy, seizures, ADHD, and developmental delays. 
Headache medicine
Many neurologists choose to specialize in headache medicine, treating pain within the face or head. If you train in this type of neurology, you'll commonly diagnose and treat conditions such as migraines and cluster headaches.
You can choose to follow this specialty once you have finished your residency. Under a fellowship, you will learn specialized knowledge in the diagnosis, treatment, and management of headache-related conditions.
 Vascular
As a vascular neurologist, you will treat a wide range of conditions related to the central nervous system. You will gain extensive knowledge and experience in the field during a fellowship, once you have completed a residency program.
Most vascular surgeons specialize in treating those who have suffered a stroke. However, you can also treat patients with brain aneurysms, cerebral vasculitis, and spinal cord or brain injuries.
Neurocritical care
Specializing in neurocritical care is both challenging and rewarding. Neurologists in this field treat patients with life-threatening nervous system diseases. These include ruptured aneurysms, seizures, strokes, meningitis, and trauma-related spinal cord injuries.
These are some of the most common types of neurologists. There are a lot of subspecialties you can choose, or you could work as a general neurologist. This would mean you would treat and diagnose a wide range of conditions.
How to become a neurologist?
Like any medical career, it takes many years to become a neurologist. You will need to:
Get a degree

Take an MCAT exam

Attend medical school

Complete a residency

Complete an optional fellowship

Get board certified
The basic requirement to attend medical school is a 4-year degree. However, you should check with your chosen school to see what its exact requirements are. You may need to graduate with a master's degree to get into the medical school of your choice.
Before you can go to medical school, you will first need to take an MCAT exam. This ensures you have the right level of knowledge and skill to study at medical school level. You can either apply to an MD or DO medical school, where you will study for a further 4 years.
Upon completion of medical school, you will need to undergo an additional 4-year residency. This combines practical and theoretical study. When you have completed the residency, you can choose to undergo a fellowship, specializing in a particular field of neurology.
When you have completed all your training, the last step is to become board certified. This is a requirement before you can start practicing.
Does becoming a neurologist sound like the perfect career move for you? Head over to our admission requirements to see if you qualify for our MD program. Becoming a neurologist does take time, but the job role is varied and rewarding. 
Useful Links
Get in touch for more information