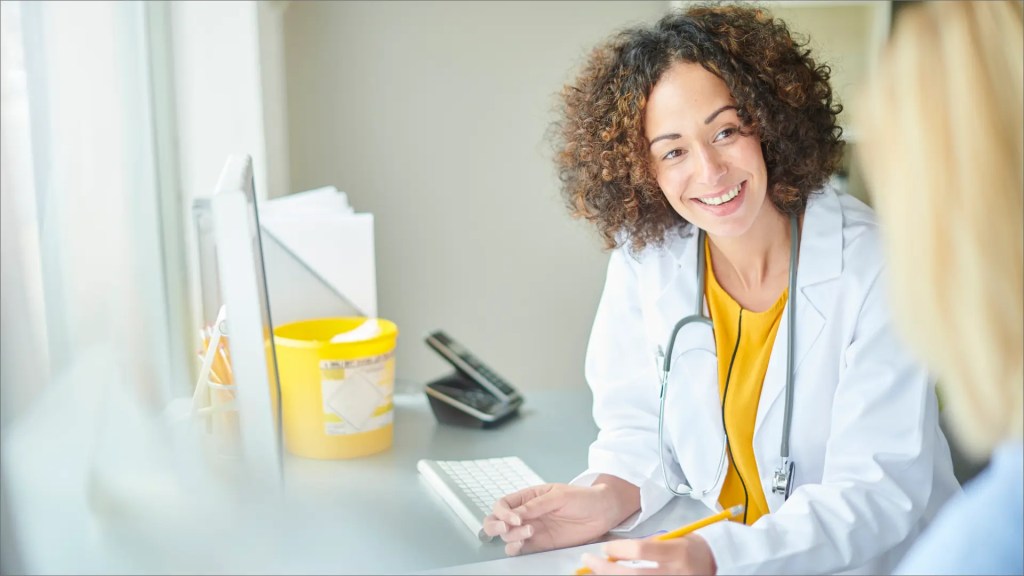 What is an internist and what do they do?
An internal medicine physician is a doctor that specializes in internal organs. Learn more about what it means to be an internist.
If you are interested in a career that combines building patient relationships with treating a wide range of health issues, becoming an internist might be a good career choice. As a doctor of internal medicine, you will diagnose and treat diseases and conditions of internal organs in adults, deliver comprehensive medical care and serve as your patients' first point of care.
Internal medicine often attracts doctors interested in preventative medicine, the complexity of this specialty, and the opportunity to build long-term patient relationships. Practicing as an internist can also provide you with multiple opportunities to work in various fields such as cardiology, oncology, infectious diseases, and many other fascinating areas. Read on to find out more about internist doctors.
What is an internist?
Internists are doctors, caregivers, researchers, and investigators who specialize in internal medicine. Internists use scientific research and clinical expertise to diagnose and treat patients. While their primary focus is on internal systems, they treat the whole body while working towards optimal wellness for the patient.
Internists deal with most types of illness or injury, including chronic and acute conditions such as cardiovascular disease and diabetes. They specialize in managing diseases of internal organs such as the kidneys, heart, liver, and lungs while also acting as primary care doctors for patients aged over 18.
Internal medicine doctors focus on solving complex diagnostic problems, disease prevention, mental health, wellness coaching, women's health services, reproductive health services, disease management, dermatology, and ear/nose/throat patient care. Some general internists include one or more subspecialties in their medical practice, such as cardiology.
An internist aims to take care of a patient for life, whether in the office, clinic, nursing home, or during hospitalization. An internist will coordinate patient care and manage any complex medical issues that arise with that care.
What does an internist do?
Internists travel between their offices, hospitals, and clinics to care for their patients. During their working hours, they may need to make an emergency visit to a nursing home or hospital or address a patient's concern over the phone. Other responsibilities of an internist include:
Taking a patient's medical history

Analyzing patient medical records to make informed diagnoses

Recommending patients to specialists if and when necessary

Ordering tests for healthcare staff to perform

Reviewing test results to identify any abnormal findings

Updating charts and patient information to show current findings and treatments

Designing a plan of treatment

Addressing patient concerns and answer questions they may have about their health and wellbeing

Assisting patients with taking care of their health

Directing the activities of nurses and other patient care staff
Types of internists
Internists treat a broad range of diseases and conditions in adults. However, some internists choose to focus on specific areas of internal medicine. There are 14 subspecialties of internal medicine certified by the Accreditation Council for Graduate Medical Education:
Allergy and immunology: Diagnosis and treatment of allergies and diseases of the immune system
Cardiovascular care: Diagnosis and treatment of heart-related diseases
Critical care: The provision of care for critically ill patients, usually involving life support
Endocrinology: Diagnosis and treatment of diseases affecting the endocrine system, such as hormonal diseases and diabetes
Gastroenterology: Diagnosis and treatment of diseases involving the gastrointestinal tract
Geriatric medicine: Care for elderly patients
Hematology: Diagnosis and treatment of diseases involving the blood
Infectious diseases: Diagnosis and treatment of diseases caused by microorganisms, such as viruses and bacteria
Nephrology: Diagnosis and treatment of kidney-related diseases
Occupational medicine: Care for workers and prevention of diseases and disabilities attributed to the workplace
Oncology: Diagnosis and treatment of malignant and benign tumors
Pulmonary/respiratory medicine: Diagnosis and treatment of diseases involving the respiratory system and lungs and
Rheumatology: Diagnosis and treatment of diseases affecting bones, joints, and muscles
What is the difference between an internist, general practitioner, and hospitalist ?
Internists and general practitioners are both primary care physicians who provide medical care to adults. However, there are key differences that differentiate them from each other.
Internist vs general practitioner
| Internist | General practitioner |
| --- | --- |
| Only treats adults | Treats people of all ages |
| Work in hospitals and larger clinics | Works in private clinics |
| Treats patients referred to them | Provides the first step of medical care then may refer patient to a specialist such as an internist |
| May have trained in a subspeciality such as pulmonology or cardiology | May have trained in family medicine |
| Works with inpatient and outpatient | Treats outpatients |
Internist vs Hospitalist
Hospitalists and internists are both doctors who provide care for patients in a hospital. They both provide the same level of care to hospitalized patients, diagnose and treat acute illnesses and perform medical procedures during their patient's hospitalization. 
| Internist | Hospitalist |
| --- | --- |
| Only provides care to adults | Provides care to people of all ages |
| Works in hospitals and outpatient settings | Works exclusively in a hospital |
| Provides care to patients throughout their adult lives | Provides care to patients only during their hospital stay |
| Can admit patients to hospitals | Deals with patients admitted to hospital |
How to become an internist?
Becoming an internist involves a four-year undergraduate degree from a medical school. You will need to study at an accredited school of medicine and pass exams from the United States Medical Licensing Examination (USMLE). After completing medical school, you will graduate with a medical doctor (MD) degree.
Your next step to becoming an internist is a three-year residency in internal medicine. During residency, you'll practice internal medicine under the supervision of experienced physicians. Your residency may include rotations in a teaching hospital, intensive care unit, outpatient clinics, subspecialty clinics, or community medical practices. During residency, you will learn to diagnose and treat a wide variety of adult illnesses.
The final step is to pass a board certification exam set by the American Board of Internal Medicine. You will then be qualified to practice general internal medicine. About half of all internists go on to practice general internal medicine, serving as primary care physicians. Meanwhile, other internists pursue further training to subspecialize in a specific branch of internal medicine.
Careers in internal medicine
As an internist or internal medicine physician, you can expect to see patients in an office-based setting and during patient rounds in the hospital. Most internists typically work 40 hours a week, seeing approximately 20 to 25 patients per day. Many internists are also on call, so they can work at night or during their days off. Internists have more flexibility than other medical specialists when it comes to the hours they work and the career paths they choose.
Where do internists work?
Due to the broad scope of their work, internists have many options as to where they work. Internists can work in medical offices, large clinics, and hospitals and often do so in combination. They may work as a solo practitioner or partner with other physicians to form a group practice. Meanwhile, some internists are employed by a clinic or hospital as salaried staff.
What is an internist salary?
Regarding how much do internists make, the average pay for an interest in the United States is between $202,600 and $255,500. The specific salary will depend on experience, education and training, geographic location, type of practice, and their chosen specialization.
Becoming an internist opens many paths
Internal medicine is a highly versatile specialty, giving internists various options in terms of career paths. An internist can choose to become an employee of a hospital, group, or clinic or open their own practice. An internist can also become a hospitalist, with no additional education or training required. Internists can also complete a fellowship allowing them to subspecialize in other medical disciplines.
If you are interested in pursuing a career in internal medicine, reach out to us with any questions you have or to find out more about how to apply.
Useful Links
Get in touch for more information