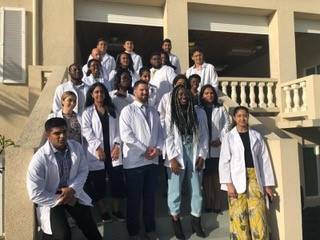 Five reasons why it is never too late to become a doctor
Uncover the reasons why pursuing a career in medicine is timeless. Explore five motivations that prove it's never too late to become a doctor.
While many nurture the dream of becoming a doctor from an early age, for some the decision arises at a later stage in life. Often factors like meeting financial obligations, raising a family or other personal commitments prevent people from pursuing a medical degree. In some cases, the desire to become a physician comes amidst pursuing another career. 
Whatever your reasons are, and in whichever phase of your life you choose to be a physician, the right Caribbean island medical school may help you propel your career forward. You will also be amazed to know that many medical students have made the transition into medicine from a different career. 
Wondering about being the right age for this profession is understandable but, any time you choose to dedicate yourself to the medical field is the right time. Here are five reasons that might convince you that you are making the right decision.   
1- Never too late 
You can choose to be a doctor at any given time if you have done the prerequisite coursework for the field. This coursework, along with your dedication to be a successful physician, is important as this career requires a lot of hard work. Those who are already working or have previously earned another degree find it easier to devote themselves to the demands of the medical field. 
MUA students like Dr Habib A Nazir are excellent examples of how an MD program in the Caribbean can be instrumental in realising your dream. Dr Habib started as a firefighter before turning his focus towards a career in medicine. He is currently a Pulmonary and Critical Care Fellow at Newark Beth Israel Medical Center. 
2- Patients will trust you more
We often gravitate towards senior doctors who attentively listen to our problem and show genuine empathy. Seniority and experience are two attributes in a physician that instil confidence in people. Hence, starting later in your career can have its advantage as it gives you the right perspective for the job. 
Older residents, especially ones with prior work experience are adept at dealing with people and can put nervous patients at ease effortlessly. Hence, your background can positively impact your medical career. 
3- An enriching background 
As an older student looking for a suitable Caribbean medical university, you will have many concerns. Studying for the MCAT, going to a medical school and taking up clinical rotations is a big time commitment. On top of that, you might worry about fitting in at the medical school itself. 
If you are concerned about the environment within the medical school then you can put your worries to rest. In top Caribbean medical schools like MUA, students are provided with the strong support network that they require for their continuous growth and ultimate success. As MUA graduate Dr Emily Kurokawa puts it, the school accommodated her need to do multiple observerships and supported her every step of the way. 
 4- Following your purpose 
Being a medical professional is often a calling for those who want to give back to society. Students like Sunil Ramaswamy, who studied at MUA, are enamoured of the work that goes into treating and dealing with patients. 
The former Anthropology graduate, who played in a rock band before turning towards medicine, will soon start his Critical Care Fellowship at the University of Rochester Medical Center. Not only has Sunil found a career that he enjoys but he fondly recollects his experience at MUA where his peers were like a family to him
5- Being more prepared 
 Studying medicine and then going into practice requires rigorous studies and training which is taxing on the mind. Being in a stressful environment while studying for exams or being involved in clinical rotations can become a heavy burden for younger students. By contrast mature students oftentimes are more adept at handling these harder times and can be more resilient based on prior life experiences. 
The first step in every medical student's journey, no matter your age, begins with enrolling in a good medical school. Medical University of Americas is a great option among medical schools in the Caribbean as it is known for its academic excellence. Accredited and approved by the key states of New York, California and Florida as well as the Accreditation Commission on Colleges of Medicine (ACCM), MUA offers a curriculum that is modelled after U.S. and Canadian medical schools. Students find its small class size conducive to learning as each individual is given complete attention and support.   
If you are keen to be a part of MUA then check out the MD programs offered by them. You can also find out more about studying at the medical school here.
Useful links
Get in touch for more information