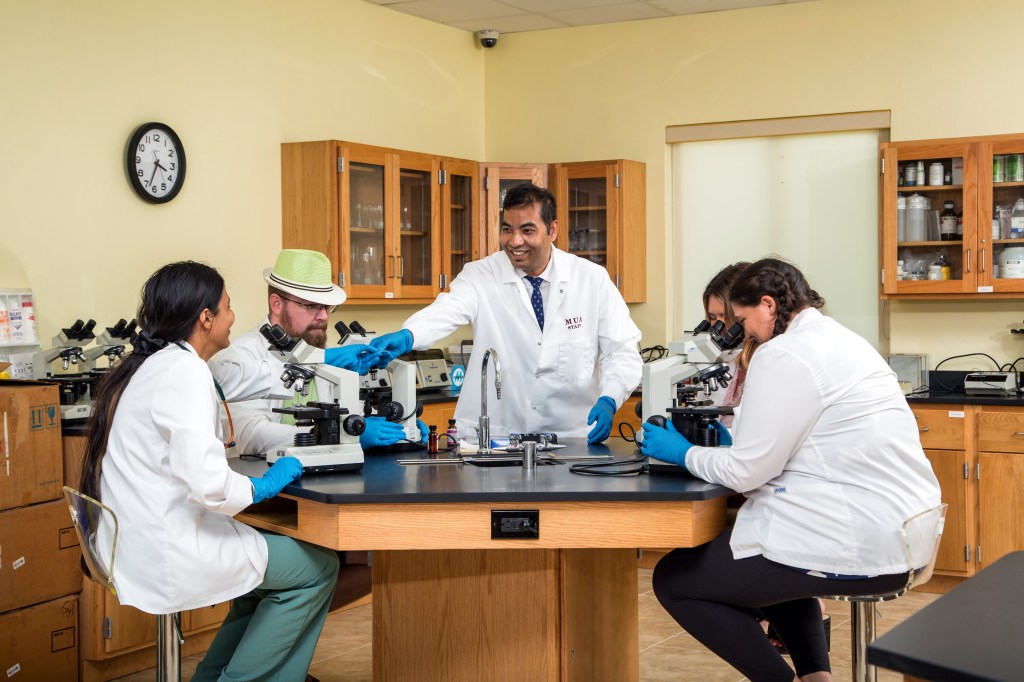 What makes the MUA curriculum so special?
Selecting a medical school is pivotal. Explore MUA's integrated curriculum, standout faculty, and diverse clinical experiences in the U.S. and Canada.
Choosing a medical school can be challenging, and there are many factors that need to be considered. Among them are curriculum, cost, USMLE Step One success, clinical rotations, faculty, and ultimately residency placements.
It is important that you choose an institution with a curriculum based on the integrated, systems-based approach in use at top US medical schools. Medical University of the Americas (MUA) is a fully accredited Caribbean medical school that not only teaches this systems-based curriculum but goes beyond to offer learning experiences you won't find at big international schools. For example, MUA's first semester anatomy class includes dissection of cadavers, and at the conclusion of your 5th semester you will have the opportunity to work on a unique research module that teaches you critical analytical skills.
A medical school curriculum is only as good as the faculty teaching it, which is why MUA employs some of the best medical minds. MUA's seasoned educators come with years of experience along with advanced medical degrees (MD, MBBS or PhD).
The MUA faculty is passionate about what they do, and they work closely with each student on a personalized basis. Other schools teach medicine in huge lecture halls that offer little opportunity for one-on-one interaction. MUA's student-centered approach makes MUA faculty stand out among all other institutions.
In the second half of your program at MUA you'll take part in clinical rotations. You will start with 42 weeks of core rotations in the areas of internal medicine, surgery, pediatrics, psychiatry and obstetrics and gynecology. From there, based on your future goals you will have 30 weeks of elective clinical rotations. Recommended electives include cardiology, family medicine and neurology, among others based on your area of interest.
MUA's extensive clinical program allows students to complete their core rotations in teaching hospitals throughout the US and Canada. In addition, MUA has affiliations with over 60 hospitals where students can complete their elective rotations.
MUA's integrated, system-based curriculum parallels the training that students receive at top US medical schools. It is a comprehensive 10-semester program for earning an MD.
Students learn on MUA's state-of-the-art campus which includes a modern gross anatomy laboratory with cadavers and additional laboratories, learning centers, high-tech classrooms, lecture halls and a fully equipped medical library.
The MUA curriculum is a comprehensive 10-semester program for earning an MD. The foundation of the curriculum is the five semesters of basic sciences, after which time the clinical staff will work with you to create an individual academic plan for passing the important USMLE Step One exam. Students then return to the US or Canada to complete five semesters of clinical rotations at teaching hospitals. The MUA curriculum embodies six core competencies essential to the practice of medicine:
Patient care
Scientific and medical knowledge
Lifelong learning, scholarship and collaboration
Professionalism
Communication and interpersonal skills
Social and community context of healthcare
By choosing to begin your journey as a doctor with Medical University of the Americas (MUA), you are choosing a curriculum modeled on the training you would receive at US and Canadian medical schools. You'll also have the opportunity to study surrounded by the beauty of the Caribbean.
Find out more about MUA's learning environment and our medical program.
Useful Links
Get in touch for more information